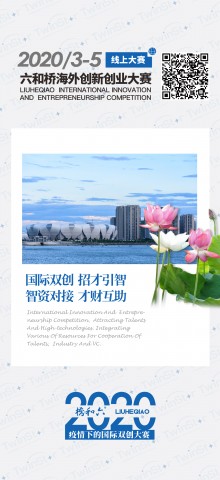 Science has no borders, innovation is endless. Knowledge and globalization are constantly reshaping the global science and technology and economic map. Geographical, national and organizational boundaries are increasingly broken, scientific and technological innovation resources are also free to flow around the world, accelerating the formation of global innovation networks.
The significance of scientific and technological innovation is no longer limited to itself, but also indicates the height that a country can achieve in the world division of labor system, as well as the strategic point to enhance comprehensive national strength. In order to meet the challenges of a new round of scientific and technological revolution and industrial transformation, a lot of outstanding talents have gone out of the country to learn advanced science and technology and a broader vision.
The aim of Liuheqiao International Innovation and Entrepreneurship Competition is to provide a platform for these overseas innovative talents.
The competition will select innovative projects with potential and broad prospects, providing these enterprises with facilities to reduce the cost and accelerate their development. Besides, we help them break the barriers between theory and market, realize the efficient combination of innovation and resources, and promote the progress of China's scientific and technological power.
Total financing amount over 2 billion, cumulative investment over 100 enterprises
Capital-driven incubators based on technology transfer — Liuheqiao
Founded in 2003, Liuheqiao is a professional innovation and entrepreneurial service provider focuses on incubator management, seed and angel investment, technology transfer, as well as regional industrial upgrading solutions. Our main business includes investment, roadshow, incubation, and international exchange.
At present, Liuheqiao operates 7 incubators including the "5050 Plan "Accelerator, and a well-known investment and financing platform at home and abroad, including Liuheqiao Innovation and Entrepreneurship Ecological Zone. It's Liuhe Angel serial Fund, is managing 280 million yuan for early start-ups investment.
Since 2014, Liuheqiao has attracted more than 300 institutions and 200 angel investors. By now, over 1,000 companies participated in roadshows and more than 100 of them obtained investment. In accumulation, this platform has helped entrepreneurs raise over 2 billion RMB.
Competition time: March 2020-May 2020
Venue: Hangzhou, China; Ottawa, Canada; Tokyo, Japan (Due to the special reasons of the epidemic, the competition is conducted by online video roadshow)
Application Notes
Competition process: The competition is divided into three parts: online registration, project audition and final competition
Online registration: a registration materials include registration information form, a project BP and a 3-minute project introduction video.
Registration materials should be sent to the registration email
869241647@qq.com (Canada)
970531193@qq.com (Japan Division)
Please subscribe our WeChat official account jsq5050 and click the Investment Roadshow button to learn more information about the competition.
Project auditions: As of April 30, 2020. Liuheqiao will organize relevant industry experts and investors to conduct preliminary examination on the competition application items and finally determine the list of finalists.
Final evaluation: In mid-May 2020, The finals of 2020 Liuheqiao International Innovation and Entrepreneurship Competition will be held. Through the online video roadshow, the experts, investors and judges will score and select the winning projects.
Highlights of the competition: the opportunity to be directed by the most influential industry leaders and up to 10 million R & D subsidies
Liuheqiao International Innovation and Entrepreneurship Competition will bring together a number of influential industry leaders and investors in various fields, who will provide targeted advice and guidance to the contestants.
Guests invited and judges included:
Wang Junming, Counsellor of the Embassy of the people's Republic of China in Canada
Che Chang, from Secretariat of the Embassy of the people's Republic of China in Canada Sophie Chen Sophie Chen, Asia Pacific head of Ottawa Investment Agency
Xu Jingjing, General Manager of Hangzhou Fenghui Liuheqiao Venture Science & Technology Co., Ltd
Thomas Song, from Canada department of health
Mengchi Liu, from Carlton University
Zhong Chun, Manager of Canada TwinStar project in Hangzhou Fenghui Liuheqiao Venture Science & Technology Co., Ltd
Yang Wenhu, General Manager of Hangzhou Fenghui Investment & Management Co., Ltd
Zhu Ningning, Investment Director of Hangzhou Fenghui Investment Co., Ltd.
Zhao Xintong, Investment Manager of Hangzhou Fenghui Investment Management Co., Ltd
Shen Zeqichao, Senior Investment Manager of Puhua Capital
Fang Ming, Senior Investment Manager of Rushan Huijin Capital
Zhang Fanjia, CEO of Illumina Venture Capital
There will be one first prize and two second prizes, three third prizes, best creativity award, best performance award and most valuable business plan award, etc.
All registered projects will be included in the investment target database of liuheqiao venture capital fund and enter the due diligence process.
Individuals can get a reward of up to 1 million yuan, as well as comprehensive policies and service guarantees such as talent apartments, house purchase subsidies, children's schooling, transportation and travel. Project enterprises can obtain up to 10 million yuan of R&D subsidies, rental subsidies and up to 10 million yuan of investment and financing subsidies, bank loan discount.
In addition, Liuheqiao provides soft landing services for international projects, including:
Office space rent free service in the range of 3-6 months
Free Fenghui entrepreneurship service package including business administration, financial custody, intellectual property services, legal support, personnel agency and administrative services in the range of 3-6 months
Free entrepreneurial counseling service in a month
3 road show opportunities
Free investment and financing consulting services one to three times
A primary industry docking service
Entry Requirements
Project scope: Intelligent manufacturing, high-end equipment, smart home, new materials, energy conservation and environmental protection, health medical equipment, artificial intelligence, information economy, intelligent and digital office and other related industrial fields.
Entry Conditions:
(1) Chinese students or overseas Chinese from Canadian or Japanese universities who are studying or recently graduated with innovative or entrepreneurial projects.
(2) Overseas Chinese living in Canada or Japan with patent technology and entrepreneurial enthusiasm.
(3) Applicants should generally obtain a bachelor's degree or above, not more than 55 years of age; entry projects should have a team of entrepreneurs with scientific and technological innovations and entrepreneurial plans.
(4) Own intellectual property rights and having advanced or leading technological achievements at home and abroad.
Note:
(1) The competition will not charge any fees to the contestants
(2) No violation of rules. No illegal phenomenon such as plagiarism or misappropriation is allowed in the submitted materials related to the entrepreneurship project. Once found, the qualification of the competition will be cancelled immediately.
(3) If the competition is affected by force majeure, the organizer has the right to adjust the schedule or terminate the competition.
(4) Liuheqiao reserves the right to further supplement the rules and final interpretation of the contest. Matters not covered shall be notified separately.
Liuheqiao hopes to open up capital channels for more innovative projects with unique technological innovation ideas at home and abroad, and seek the future of science and technology under the principle of complementary advantages and win-win cooperation.
Media Contact
Company Name: Liuheqiao
Contact Person: Wang Yurong
Email: Send Email
Phone: 2134007851
Address:3185 Wilshire blvd
City: Los Angeles
State: CA
Country: United States
Website: www.lingrongculture.com