Virtual and Augmented Reality opens a new world to its users, and this impact on the banking world is just starting to be seen.
Virtual reality has been associated with interactive 3D video games, entertainment, and immersive adventures since the first commercial use of the Oculus Rift in 2013. However, specialists are finding ways to use VR and AR's full potential to construct immersive banking worlds. The Goldman Sachs Group believes that VR and AR will make up an $80 billion market by 2025. We take a look at some ways that this technology can and are being integrated into banking.
Security Integration
Current financial mobile apps require users to run through a system of sign-ins, registering online and confirming their identity by email or text to activate a username and password, as well as 2-factor authentications for some activities. Biometric security allows users the freedom to explore an AR world with much less risk. Fingerprint-and facial recognition is already the standard authentication on many smartphones. With AR the use of biometrics can further secure interactions customers have with their bank and protect against cybercrime. According to Marwan Farah, director of strategy for Barclaycard, "more sophisticated biometrics such as iris identification, finger vein scans and voice recognition, are becoming more mainstream and will undoubtedly find their way into payment technologies in the near future."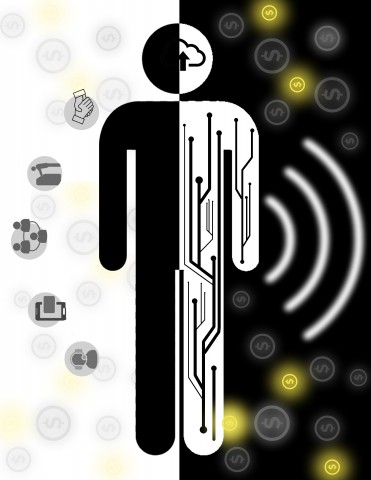 Virtual Branches and Reduced Costs
Though no banks have launched a virtual branch yet, the writing is on the wall. For consumers who unable to visit a branch due to distance, time, or simply a need for enhanced privacy, virtual banking will be of great use. An avatar controlled by your personal banker or even a personalized AI, able to present advice, offers, and complex financial data in a single, visualized setting will soon be a reality.
According to Deltec Bank, Bahamas, "This ability can lead to emerging, innovative banks, who will introduce VR only banking, instead of building traditional brick-and-mortar branches, thus saving time and capital, while concurrently, providing consumers with a better banking experience that slow movers will not be able to offer."
Virtual Reality brings in cost savings for traditional banks as well. With a back-office VR program, banks can cut down on costs and time traveling for meetings and training. Employees will also be able to share insights and best practices virtually across the company and in a life-like way.
AR for Trading
Since 2016 Citibank has been studying the use of AR for a financial workstation. Citi's goal was to increase trader efficiency using a 3D holographic workflow. The first iteration workstation itself was a complex framework that extended information-based computing into augmented reality by integrating 2D screen space; and 3D holographic docking space with the user's input from a keyboard, mouse, gaze, gesture, and voice, as well as the customary trading floor phone systems.
Citi claimed that a combination of 2D and 3D also increased efficiency in extrapolating insights from data. Using a Microsoft HoloLens workstation, traders were working with hundreds of financial instruments, and "each one was represented by a sphere which was grouped into a color-coded asset class. Sphere volume corresponded to market volume for a particular future, while particle clouds correspond to a clusters activity, so a trader could quickly see where the action was in the market." Microsoft has recently released a newer HoloLens 2 which is lighter weight and more responsive system that could potentially be used to further the capabilities of a workstation similar to Citibank's.
Going Beyond Chatbots
Most of the large banks offer virtual assistants for their apps like Erica from Bank of America this is a chatbot with a few extra capabilities. Erica can help with bill payments and inform users of their monthly spending. Fidelity Labs is upping the ante with the first virtual host Cora. They have taken the first steps towards a VR branch, using an Oculus Rift people can talk to their financial advisors in virtual reality to learn about the progress of their stock portfolios while Cora displays the stock chart on a wall of her virtual office just like presenting graph on a virtual projector.
Finding and Training Talent
Following on New Zealand ASBs AR app, Commonwealth Bank in Australia created a google cardboard app where users are invited to lead a project team in the virtual Innovation Lab. There, users develop an app for the bank's business customers. The project's goals are to give a clear insight into the company culture and the projects their employees take on, as well as showing off the type of innovative and agile thinking that happens within the bank's workforce.
Qbit Technologies develops VR soft skill training for banking's top managers. 3D interactive training uses SL Grid technology, hosting management coaching courses, and role-play sessions for managers in the banking sector. The virtual reality environment, made up of different virtual meeting rooms, is tailored to host soft skill training courses, where users can engage in 3D classes, with live tutors, and capability to interact with the environment, learning objects, and other users.
Virtual and Augmented Reality opens a new world to its users, and this impact on the banking world is just starting to be seen. From customer interaction and service to increase security and the capabilities of traders to human capital recruitment and training, this technology can impact every part of the organization. Firms that implement unique and beneficial uses of these technologies are forging a bright future for themselves.
Disclaimer: The author of this text, Robin Trehan, has an undergraduate degree in Economics, Masters in international business and finance, and an MBA in electronic business. Trehan is Senior VP at Deltec International www.deltecbank.com. The views, thoughts, and opinions expressed in this text are solely the views of the author, and not necessarily reflecting the views of Deltec International Group, its subsidiaries, and/or employees.
About Deltec Bank
Headquartered in The Bahamas, Deltec is an independent financial services group that delivers bespoke solutions to meet clients' unique needs. The Deltec group of companies includes Deltec Bank & Trust Limited, Deltec Fund Services Limited, and Deltec Investment Advisers Limited, Deltec Securities Ltd. and Long Cay Captive Management.
Media Contact
Company Name: Deltec International Group
Contact Person: Media Manager
Email: Send Email
Phone: 242 302 4100
Country: Bahamas
Website: https://www.deltecbank.com/