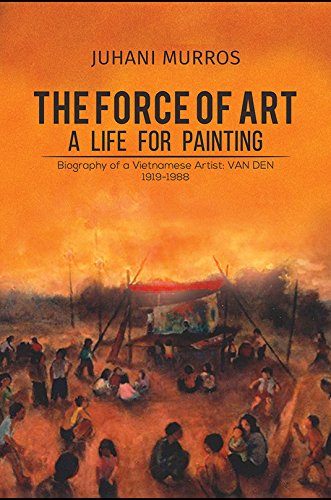 The Force of Art – A Life for Painting: Biography of a Vietnamese Artist: VAN DEN 1919-1988, penned by Juhani Murros, is written at the culmination of his many years of research and reflects his deep insight into the arts as well as his love for Vietnam. It is the first book to look into Van Den's noteworthy contributions to Vietnamese art in detail and gives a unique account of French Indochina's and Vietnam's political and cultural history.
To become a famous painter was Van Den's lifelong dream. A physical education teacher by his mundane profession, he struggled hard to reach his goal. Force of Art tells his long and arduous journey to gain recognition as an artist. In the 1960s he was finally living his dream, celebrated as the former Republic of South Vietnam's premier artist, but his success came in the shadow of the Vietnam War that shattered his world.
Murros gives an in-depth look into the life of this little-known unsung master, whose soul capturing nostalgic paintings exude freshness and warmth. The book introduces the readers to Van Den's art with photographs of his paintings, accompanied by snippets of stories behind them. Each stroke of words in the book connects to the readers; the inspirational narrative etched on its pages awakens the artistic spirit that is innate in each one of us, prompting us to follow our dreams.
Order Juhani Murros The Force of Art – A Life for Painting: Biography of a Vietnamese Artist: VAN DEN 1919-1988 today on Amazon
Amazon: https://amzn.to/2GjVeca
Media Contact
Company Name: URLink Marketing | URLink Print and Media
Contact Person: Media Relations
Email: Send Email
Phone: 1-888-980-6523
Address:1603 Capitol Ave., Suite 310
City: Cheyenne
State: Wyoming 82001
Country: United States
Website: www.urlinkpublishing.com/