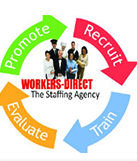 The recent global pandemic has caused a disruption in the lives of many people. With lockdowns and social distancing becoming the norm, many businesses have closed down – leaving people without a job.
To assist people during this hurdle, Workers Direct is providing job seekers with temporary work during this pandemic. Workers Direct specialise in temporary and short-term staff recruitment. Often called the best recruitment agency in London, they offer administrative, warehouse, hospitality and catering staff across the UK.
Their team of professional consultants has assisted many people during this pandemic. Even during current conditions, there are often openings and requirements for short-term workers. As a result, Workers Direct allows job seekers to easily get acquainted with the options they have available. Many consider them to be the premier temp agency. And much of this is because of the friendliness and efficiency of their staff. They are approachable, yet professional. Additionally, they strive to provide workers with a job that is able to make the best use of their skill set.
It is for this reason that they are the first option that people think of when searching for a reputable workers agency. With the severity of the pandemic growing each day, many people have been unable to attend to their regular work or jobs. Workers Direct has thus been working tirelessly to ensure that such people are able to find work and get through this difficult time.
Everyone at their staffing agency has remained focused in perfecting their services and working together to help anyone who may be seeking work. They believe that together it is possible to fare through this arduous time and they are there to provide assistance for all those who may need it. Learn more.
About Workers Direct:
Workers Direct assists anyone who is looking for a job as a temporary or contract role. Their services also extend to corporations, restaurants and schools that need supplemental staff for support short-term or long terms basis across the UK. They are experts in recruiting from various fields and areas of business, and their services and standards are exacting.
During the recent pandemic, they have been assisting out-of-work individuals greatly. They can recruit for Urgent vacancies or sudden, unexpected absences from team members due to sickness or vacation, no matter how short the notice period. All of their candidates are strictly and closely vetted, and they push themselves to meet the high standards that they set themselves.
For more information: https://workers-direct.com/
Media Contact
Company Name: Team Workers Direct
Contact Person: Media Relations
Email: Send Email
City: London
Country: United Kingdom
Website: https://workers-direct.com/