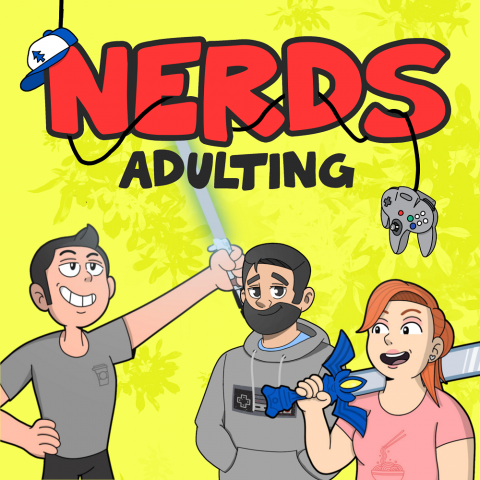 Nerds Adulting is a raw, exciting, and humorous podcast presented by three friends Peter Voland, Ruthie Ren, and Josh Wick. The trio talks about 'all things nerdy' in their unique podcast channel that is gaining quite some popularity. In every episode, they explore a different topic ranging from video games to movies, latest gadgets and technologies to Comicon and Nutrition to top nerd stories.
All three hosts give some interesting opinions and exclusive insights on various topics. While Peter is known for his dry, and chilled approach with a humorous touch, Josh brings all the fun facts and analysis about the same. Ruthie and Peter feed off each other well, and she has her own witty and slightly funny way of conversation. Overall, the three complement each other's styles very well, which makes every podcast delightful to listen to. Also, the sound quality is great, and the trio's focus on keeping the podcast to-the-point and engaging makes sure there is never a dull moment.
One of the podcast fans says in their review on Apple Podcasts, "Pete & friends discuss everything nerd related so we don't have to. Like, who wants to reminisce about working at Game Stop? Not me. Far too triggering. But these dudes got it all covered. Impressive seeing game devs come to talk about the industry. Love getting an inside perspective on a somewhat enigmatic & secretive enterprise. Keep it up, dudes."
In their latest podcast, the hosts discuss the game buying thought process and whether game remakes are a good thing. They also provide 'nerd news' about Call of Duty, Anti-cheat software, Sony PS5's rumored limited availability, and estimated price.
For many of their podcasts, they have invited special guests, to give their expert insight on various topics. The most popular episode was their David Hayter interview where they discussed his experience voicing Solid Snake/Big Boss of the legendary video game, Metal Gear Solid and writing on the X-Men Films. One of the podcasts also features the best selling author Kylie Higgins, who talks about Batman, Nightwing, and Power rangers. For a podcast released in March, the hosts invited Michael Katz, the former president of Sega of America, to discuss his journey, video games, and more!
Listen to Nerds Adulting podcasts on Apple Podcasts and Audioboom.
More information can be found on their website nerdsadulting.com.
Media Contact
Company Name: Nerds Adulting
Contact Person: Peter Voland
Email: Send Email
Country: United States
Website: NerdsAdulting.com