Author Pamela Roberts Lee's novel The Darkness at Dawn reaches back 400 years into New England's 1600s where two men compete for wealth and power.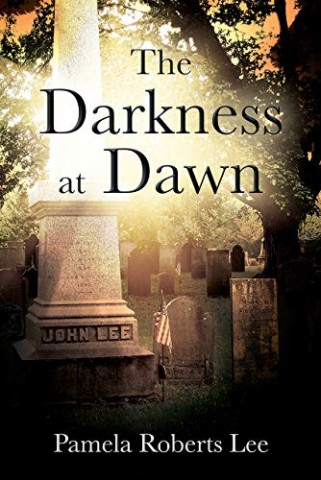 It's 1634 and a ship of Puritans struggles through a storm on its way to Boston. Among them are John Lee, a recent convert to Puritanism and a 16th Century ancestor of England's Prince William and Prince Harry, and Grace Newell, both 13-year-old wards of William Westwood, their congregation's lawyer. When John sees Richard Hawkes, already a petty thief and murderer at 19, steal his Puritan church's gold inlaid chalice, he has no idea that this act will lead to a 40-year conflict between them. The next day, when the chalice is missing, Richard threatens to kill Grace unless John swears to conceal the theft. John agrees if Richard returns the chalice. With few options, Richard agrees. John's guilt grows over the years while Richard lies, steals and murders his way to fortune and influence. Meanwhile, John becomes a soldier, civic leader and Indian teacher. Each man attracts followers while both compete for the affection of the same woman.
Continually conflicted, John blames himself for unleashing Richard's evil upon his community but at the same time believes that breaking his oath would be a great sin. Finally, when Richard's crimes are too great to ignore, John is asked by the governor to prosecute Richard for instigating the murder of soldiers in a recent Indian War. In an incredible act of hubris, Richard calls John as a character witness at trial. Confronted with a question he cannot answer without violating either his oath to God or his oath to the Court, John remembers the wisdom of his most spiritual Indian student and finds a way to answer. When Richard is convicted, John's guilt over his oath to him is absolved. At the same time, he finds a philosophy which allows him to continue living as a member of the Puritan church which has been behind actions which he has found atrocious.
Genre: HISTORICAL FICTION
About the Author:
PAMELA ROBERTS LEE is a retired Air Force Reserve Judge Advocate Colonel and former U.S. Department of Justice trial attorney who has appeared in courts throughout the United States. She and her husband, Matt, live in Alamogordo, New Mexico, where she is the former Chair of the Planning and Zoning Commission.
Media Contact
Contact Person: Pamela Roberts Lee
Email: Send Email
Phone: +1 575 415 3628
Country: United States
Website: https://www.amazon.com/Darkness-Dawn-Pamela-Roberts-Lee-ebook/dp/B07TN7SQ5G/ref=sr_1_1?dchild=1&keywords=the+darkness+at+dawn&qid=1588611101&s=books&sr=1-1