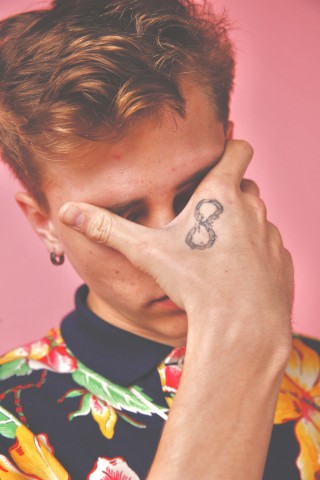 Artist Izo.Dae has one major goal in life, which is to help and empower the impoverished. With this as his guide, he has aligned his love for music and clothes to build a brand based around just that. In his latest single "Just My Voice" you can hear this message clearly. For instance, in the intro as well as the outro he refers to a "broken world that will not change without action." This single also showcases his remarkable vocal, songwriting, and production skills. One unique thing that Izo had shared with me was that he created the chords in the song by singing one note and making that note into harmonies and a chord progression. In my opinion, resulting in a gritty but fresh sound that instantly captivates the listeners.
In this exclusive interview, Izo.dae talks more about his latest single, musical journey so far and upcoming projects.
Interviewer: Who/what inspired to do music?
Izo Dae: Learning that music could be made digitally was the first thing that inspired me to make music. As my passion developed my favorite artists like Flume, Anderson .Paak, Currency, Odesza, and Mac Miller fueled the fire as well as my peers, to name a few, Micheal Argay, Julian Gross, Jayson Bactchlor, and Stephany Konlie.
Interviewer: Describe your music style and genre?
Izo Dae: My style is very diverse. I primarily make the songs from top to bottom including the recording and mixing. Though the main styles that I enjoy are hip hop, electronic, and indie.
Interviewer: Tell us about your latest project and the story behind it?
Izo Dae: My latest musical project is called "Just My Voice". This is because I created the chords in the song by singing one note and making that one note into harmonies and a chord progression. I also had created the kick with my voice and did very minimal production to focus the song around my vocals. As for fashion, I dropped some denim jackets and denim bucket hats that my partner and I made from thrift jeans and other thrift finds.
Interviewer: Tell us a little more about your musical journey so far.
Izo Dae: I have been producing and songwriting for a little under 5 years at this point. Though I didn't release my first single until last year. In this time I also started to practice sowing and clothing customization. This allows me to express my self and develop a brand with a deeper sense of artistry.
Interviewer: Tell us more about your clothing brand and how you are helping the underprivileged through it.
Izo Dae: Currently profit is non-existent with all the upfront money I'm putting in. Though as the brand build's I would love to do fundraisers and community outreach events to either feed homeless, help "beautfy" local parks, or anything that brings people together and shows the good in humanity. One thing the whole brand is based off is the up-cycle concept. So all the clothes are made from second-hand finds, that I then repurpose to create custom pieces.
Interviewer: Tell us about your goals and inspirations as a musician.
Izo Dae: My goal as a musician is to grow myself and share the process. Id love if my music impacted others in a positive way, got people of there ass and living there lives. Inspirations of mine are Mac miller, Anderson.paak, Flume, San holo, Smino, anime, and many others. I think what I like most about these artists is there uniqueness and that their ability to cultivate their own sound
Interviewer: What other projects are you currently working on?
Izo Dae: As for the near future, I'm working on my summer drop (Clothing) which will have self-made chop t-shirts and light summer pants. In the lane of music I'm finishing up the other 9 or so singles I'll be releasing this year. Blessings!!
More information about the artist can be found on his website izodae.com.
Instagram: https://www.instagram.com/izo.dae/
Facebook: https://www.facebook.com/IzoDae-353661091908567/
Media Contact
Contact Person: Izo.dae
Email: Send Email
Country: United States
Website: Izodae.com