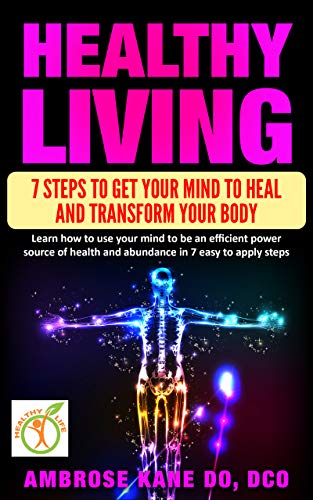 English therapist and explorer, Ambrose Kane, is set to launch his new book titled: "Healthy Living: 7 Steps to get your Mind to Heal and Transform your Body: Learn how to use your mind to be an efficient power source of health and abundance in 7 easy to apply steps".
The book teaches its readers how to unleash the power of the mind while getting the mind, body, and soul in harmony for optimum results. Ambrose also outlines the Magical Seven Steps steps for readers to transform their lives and improve overall well-being along with meditation exercises that will help to achieve this transformation.
According to Ambrose: "This book focuses on the connection between Our mind and our body. Once you get your mind, body, and soul in harmony, there is nothing you won't be able to achieve.
"These simple steps will be your guide on a journey to achieve your optimal mental, emotional, and spiritual health. You will learn about the Law of Attraction and what benefits it will give you. Also, you will learn how to understand vibrations, and how can you achieve your goals through affirmations.
"You will also discover the simple meditation exercises which will help you develop and strengthen mindfulness. And finally, with the help of the expert advice and tips, how to properly implement these seven steps in your daily routine."
Ambrose Kane is a travel aficionado and skilled navigator. While most people would fly to their destinations, Ambrose loves to do otherwise. No matter the distance, he either goes by land or sea. Having travelled to some of the remotest corners of the planet, he has organised expeditions and worked as a tour guide and an overland driver just to fulfil his passion for living and experiencing as much as possible.
His study of alternative medicine to help others wasn't intentional at the beginning. With over 40 years of studying martial arts, Ambrose loves to be as good as he can be. So, to get better at the taijutsu he practised, he went to study osteopathy at the Manchester metropolitan university for 3 years just to learn how the body moved and could be manipulated. He progressed from his study to find another path and grow not just as a martial artist but as a therapist.
According to him: "I love to travel because when you travel you are always on the highest vibrational plane and more connected to everything than at any other time."
Media Contact
Contact Person: Ambrose Kane
Email: Send Email
Phone: +44 7400 237678
Country: United Kingdom
Website: www.ambrosebooks.com