"Much like a rich storybook, 'AGATHE- CHRISTINE: NEXT DOOR SPY' has an earnestness that makes it strangely charming," wrote CBR.
Los Angeles, CA – July 8, 2020 – Stream 'AGATHE-CHRISTINE: NEXT DOOR SPY' on FlixFling or Vudu today.
TriCoast Entertainment has released Danish writer/director Karla von Bengtson's (Tigers and Tattoos, Princess Rita, The Shadow in Sara) family animation, AGATHE-CHRISTINE: NEXT DOOR SPY, onto various digital streaming platforms.
Utilizing the technique of "cut out" animation, AGATHE-CHRISTINE: NEXT DOOR SPY is unique and artistically employs color. "Vibrant hues capture the emotional strength of each scene. Of special note are the noir scenes Agatha imagines herself in, which feel reminiscent of old '50s films," wrote CBR.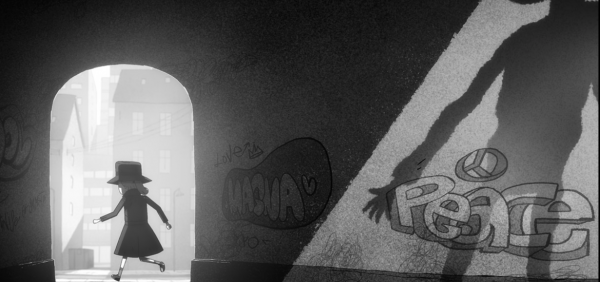 AGATHE-CHRISTINE: NEXT DOOR SPY follows 10-year old Agathe-Christine, or simply AC, who prefers to be on her own. AC fancies mysteries, and from the basement in her new building, she has established a small detective bureau. AC's first mystery appears to be simple to solve, but before long, AC finds herself involved in a much more complicated affair, than she could have ever foreseen.
The movie's mystery plot is an opportunity for writer-director Kara von Bengston to touch on issues kids often encounter, like moving to a new town, exasperating sibling relationships, and asserting one's specialness.
"[Agathe-Christine's] persistence on getting to the heart of the matter and finding solutions for herself is admirable. The fact that she's aware that she's considered 'different' and dresses 'weird', yet somehow is not moved by the opinion of others speaks volumes of her inner strength and tenacity," wrote Moms.com.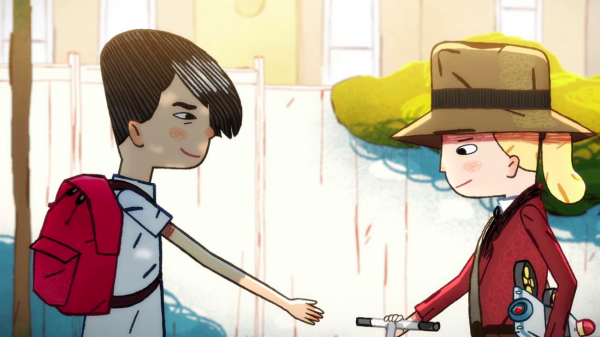 TriCoast Entertainment has released AGATHE-CHRISTINE: NEXT DOOR SPY onto various digital streaming platforms (InDemand, Amazon, iTunes, DirecTV, AT&T, FANDANGO, FlixFling and Vudu).
Watch the trailer here: https://www.youtube.com/watch?v=Y9oiXreie8w.
Produced by Copenhagen Bombay and in co-production with CB Sverige AB, AGATHE-CHRISTINE: NEXT DOOR SPY was funded with support from New Danish Screen, The Danish Film Institute and with production support from the Swedish Film Institute. The family animation features voiceovers by Anne-Grethe Bjarup Riis, Simone Edemann Møgelbjerg, Oliver Bøtcher Herlevsen, Søs Egelind, Tommy Kenter, Kristine Sloth, Dar Salim, Albert Rudbeck Lindhardt, Mille Lunderskov and Harald Kaiser-Hermann.
Agathe-Christine: Next Door Spy (2017, 77 min.) Written and directed by: Karla von Bengtson. Executive Produce: Sarita Christensen. Producers: Mette Valbjørn Skøtt & Fie Ørnsø. Film editor: Linda Jildmalm. Music Composers: Nathan Larson & Lanre Odunlami. Denmark, English. Copenhagen Bombay, TriCoast Entertainment.
PRODUCTION COMPANY: Copenhagen Bombay: Copenhagen Bombay was established in 2006 and is currently owned by film producer and director Sarita Christensen. The goal of the company's productions is to create original content for children and young people. Company attaches particular importance to the development of new talents, original tales and unique looks and designs. With films like Carsten & Gittes Film Ballade (2008), The Apple & The Worm (2009), Tigers & Tattoos (2010), The Secret of the Ice Flower (2012) The King of the Poems (2014) and Get Santa (2016), the company has been behind a long list of original films for children and young people.
About TriCoast Entertainment:
TriCoast Entertainment is a premium Domestic Distributor, representing the best of U.S. and international films: in theaters, on VOD, on DVD and TV. Sister company to TriCoast Worldwide and TriCoast Studios, the company is located at the Studio facility in Culver City, Los Angeles.
Founded by: Strathford Hamilton and Marcy Levitas Hamilton.
Visit: https://www.tricoastworldwide.com/
Media Contact
Company Name: TriCoast Entertainment
Contact Person: Jenna Wilen
Email: Send Email
Phone: 3104587707
Address:11124 Washington Blvd.
City: Culver City
State: California
Country: United States
Website: http://www.tricoastworldwide.com