MENTOR, Ohio – July 15, 2020 – Carver Financial Services' 23rd Annual Tim Groves Memorial Charity Golf Outing held on Monday, June 8 at Little Mountain Country Club was its most successful event to date. 116 golfers gathered to support the outing and assisted in raising nearly $11,000 through sponsorships, auction, raffles, and golf registrations. The money raised was donated to the Rotary Club of Mentor's COVID-19 Superhero Project to assist with providing PPE to local organizations during the Coronavirus pandemic, as well as to their School District Sanitization Stations program to purchase, coordinate the delivery and assist with the installation of sanitizing stations throughout the Mentor School District.
"Carver Financial's golf outing's fundraising efforts and donation speak volumes to reflect your caring spirit! Your volunteerism and financial support throughout these many years continues to make a difference in the lives of the people throughout our community and beyond! The Mentor Rotary Club's Foundation makes it possible to fund our humanitarian activities, services projects and scholarship programs," says Chester Karchefsky, Jr., current president of the Rotary Club of Mentor.
"Our annual golf tournament has become a rewarding tradition for all involved at Carver Financial as we promote more awareness for our local non-profit organizations, such as Mentor Rotary, who continually make a positive impact in our community. We are grateful for the continued generosity and support of our sponsors and thank everyone who joined us in 2020 to help such a timely and worthy cause," commented Randy Carver, RJFS Registered Principal, and the President and Founder of Carver Financial Services, Inc. Carver Financial has helped raised nearly $125,000 over the years for the Rotary Club of Mentor.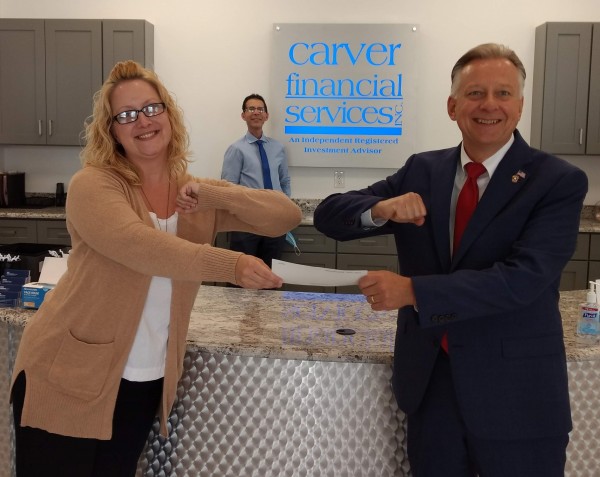 While Carver Financials' business has grown over these last 30 years, so has their community involvement. In 2013, the Carver Cares program was implemented to highlight and support local charitable organizations, and to encourage donations by matching dollars with what clients donate. To date through the Carver Cares program, Carver Financial has raised more than $300,000 for organizations such as Torchlight Youth Mentoring Alliance (formerly Big Brothers-Sisters of Lake County), Lake County Council on Aging, Crossroads, Deepwood, End 68 Hours of Hunger Lake County, as well as numerous other local non-profits. Randy Carver is also an active member in the Mentor Rotary Club.
Carver Financial Services, Inc. and Randy Carver have been recognized for their philanthropic efforts by the United States Congress, United States Senate, Ohio Senate, Ohio Congress and Governor of Ohio among others. Since 1990, Carver Financial has been helping clients in Lake County and around the world enhance and maintain their standard of living while simplifying their lives. Randy Carver and his team manage more than $1.5 billion in assets, providing comprehensive wealth management and financial planning, with a focus on retirement income and rollovers.
You can reach Randy Carver and his team at 440-974-0808 or carverfinancialservices@raymondjames.com.
Visit us on the web at carverfinancialservices.com.
Carver Financial Services, Inc. offers securities through Raymond James Financial Services, Inc. Member FINRA/SIPC. Investment Advisory Services offered through Raymond James Financial Services Advisors, Inc. Carver Financial Services Inc. is not a registered broker/dealer, and is independent of Raymond James Financial Services. Raymond James and Carver Financial Services are not affiliated with the various charities and organizations listed throughout.
Media Contact
Company Name: Carver Financial Services Inc.
Contact Person: Kelley Drumm – Director of Marketing & Community Relations
Email: Send Email
Phone: 440.974.0808
Address:7473 Center Street
City: Mentor
State: OH 44060
Country: United States
Website: carverfinancialservices.com