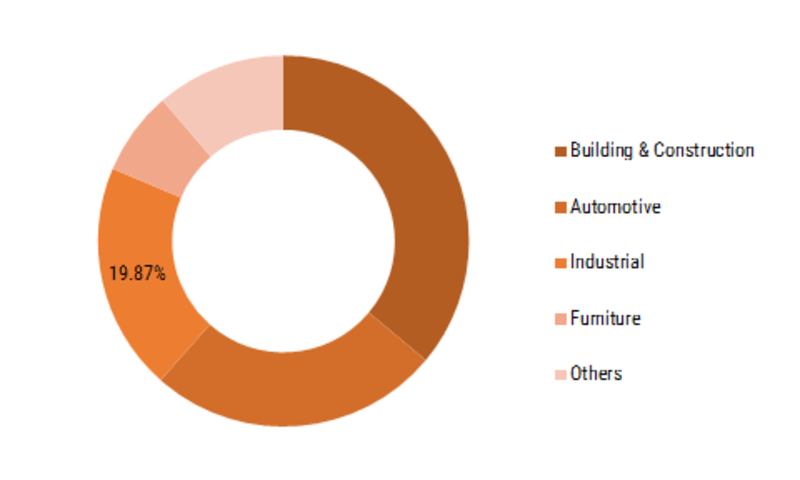 "Rising Developments of VOC-Free Materials Foster the Global Alkyd Resin Market; MRFR Reveals Insights 2023"
Alkyd Resin Market Information: By Type (Oil Based, Modified, Water Reducible, Others) End-Use Industry (Building & Construction, Automotive, Industrial, Furniture, Others) Region (North America, Europe, Asia Pacific, Latin America, Middle East & Africa)- Forecast Till 2023
Global Alkyd Resin Market is growing rapidly, mainly due to the rising consumption of paints & coating materials worldwide. Massive growth in the end-user industries of paint & coatings, such as building & construction, automotive, industrial, and furniture, is the most significant driving force. Recent development of antivirus surface coating to support communities during Coronavirus crises has been benefitting the market growth, increasing the consumption of alkyd resins. Thus, the COVID 19 pandemic is expected to impact the Global Alkyd Resin Market Exponentially.
In addition to antimicrobial technology, another trend observed is the development of label-free and VOC-free paints & coating materials. These trends are estimated to remain viable for the market growth on the backdrop of the epidemic and deteriorating environment. Heading with such trends, the Alkyd Resin Market Size is projected to increase continually during and after the pandemic. Moreover, the rising consumption of alkyd resins across the industrial paint industries escalates the market growth to furthered height.
According to Market Research Future (MRFR), Global Alkyd Resin Market is estimated to reach USD 3,257.7 MN by 2023, registering3.32% CAGR during the forecast period (2017 – 2023). Significant increase in the construction and automotive sectors also attributes to the rise in global economy. Simultaneously, the growing industrialization and urbanization worldwide, foster market growth, driving the paints & coating market. Furthermore, the increase in general industrial sectors across the globe accelerates the market growth.
Major Players:
Players Leading the Global Alkyd Resin Market include Nord Composites, Polynt SpA, Mancuso Chemicals Limited, Macro Polymers, DSV Chemicals Pvt. Ltd., BASF SE, DowDuPont Inc., Spolchemie, D.S.M., Cytech Solvay Group., and Arkema SA, among others.
Get Free Sample @ https://www.marketresearchfuture.com/sample_request/4925
Global Alkyd Resin Market – Segmentation
The report is segmented into three dynamics;
By Type: Oil-based, Modified, Water Reducible, and others.
By End-Use Industry: Building & Construction, Automotive, Industrial, Furniture, and others.
By Regions: Americas, Europe, Asia Pacific, Middle East & Africa, and Rest-of-the-World.
Global Alkyd Resin Market – Competitive Landscape
Highly Competitive, the Alkyd Resin Market appears fragmented due to the presence of many well-established players. To gain a larger completive share, players incorporate strategic initiatives such as mergers & acquisitions, collaboration, expansion, and product/ technology launch. Players aim to develop a uniquely designed product line that can offer high curability & finishing. Also, they make substantial investments to increase their global footprint and R&D required for the product launches.
Industry/ Innovation/ Related News:
January 10, 2020 —- Gabriel Performance Products, LLC (the US), a leading specialty chemicals company, announced the completion of the acquisition of a select portfolio of alkyd resins from Deltech Resins Company. Gabriel majorly serves the coatings, adhesives, and composite markets. Deltech Resins is a US-based manufacturer of para-Methylstyrene, Vinyl Toluene, and other specialty monomers.
Gabriel has also purchased the remainder of Deltech's alkyd resin product line, including coconut, vinyl-toluene, and silicon modified specialty solutions. Gabriel will produce these products at its Harrison City, PA facility, home of its Ranbar alkyd resin technology. The transaction marks Gabriel's sixth acquisition since 2014 and builds its focus on growing its proprietary product portfolio serving the CASE markets.
Alkyd Resin Market – Regional Analysis
Asia Pacific region dominates the Global Alkyd Resin Market. The largest market share attributes to the rapid architectural and industrial growth in the region. China, followed by India, has emerged as a global manufacturing hub for Alkyd Resins due to the raw material advantage and cost-competitive labor force. Besides, due to the rapid industrialization in these countries pushes the growth of the alkyd Resin Market, driving the paints & coatings market. Also, widely expanding the construction and automotive industry in the region drives the market growth consuming a vast amount of paint & coating materials.
Browse Complete Report @ https://www.marketresearchfuture.com/reports/alkyd-resin-market-4925
Also, the robust automotive manufacturing bases in China, South Korea, Japan, and India foster regional market growth, witnessing the rising sales of passenger cars. China dominated the regional market in 2016; however, the Indian Alkyd Resin Market is estimated to take the lead during the forecast period. Furthermore, advanced technology and government efforts to reduce VOC emissions are providing a lucrative opportunity to the Alkyd Resin manufacturers. The APAC Alkyd Resin Market is predicted to remain dominant throughout the forecast period, reaching USD 1213.5 MN by 2023 at 3.82%CAGR over the review period.
Europe stands second in the Global Alkyd Resin Market. The market is led by increasing R & D budgets and major Alkyd Resin manufacturers in the region. Besides, considerable advances in coating technologies impact the regional market growth positively. Moreover, regulatory bodies such as reach have specific norms on carbon emission driven by the rising awareness of the Alkyd Resin and its benefits on energy-saving operations. Russia, Germany, and the UK are the major markets for Alkyd Resins in the region. The European Alkyd Resin Market is expected to grow at a prominent CAGR during the forecast period.
The Alkyd Resin Market in North America is growing briskly. Factors such as the high consumption potential and increasing production capacities of paints & coating in the region drive market growth. Moreover, the increasing consumption of paint and coating materials in various sectors, including construction, automotive, and the aircraft sector, fosters regional market growth. The US is the largest market in the region, accounting for one of the largest global markets in terms of value & volume. The North American Alkyd Resin Market is estimated to witness a tremendous rise over the anticipated period.
COVID-19 Study in Detail:
COVID-19 Impact on 3D Printing Materials Market @ https://www.marketresearchfuture.com/report/covid-19-impact-3d-printing-materials-market
COVID-19 Outbreak Impact on Alkyd Resin Market @ https://www.marketresearchfuture.com/report/covid-19-impact-carbon-black-market
NOTE: Our team of researchers is studying COVID-19 and its impact on various industry verticals and wherever required we will be considering COVID-19 footprints for a better analysis of markets and industries. Cordially get in touch for more details.
About Market Research Future:
At Market Research Future (MRFR), we enable our customers to unravel the complexity of various industries through our Cooked Research Report (CRR), Half-Cooked Research Reports (HCRR), Raw Research Reports (3R), Continuous-Feed Research (CFR), and Market Research & Consulting Services.
MRFR team have supreme objective to provide the optimum quality market research and intelligence services to our clients. Our market research studies by Components, Application, Logistics and market players for global, regional, and country level market segments, enable our clients to see more, know more, and do more, which help to answer all their most important questions.
Media Contact
Company Name: Market Research Future
Contact Person: Abhishek Sawant
Email: Send Email
Phone: +1 646 845 9312
Address:Market Research Future Office No. 528, Amanora Chambers Magarpatta Road, Hadapsar
City: Pune
State: Maharashtra
Country: India
Website: https://www.marketresearchfuture.com/reports/alkyd-resin-market-4925