Los Angeles, CA – Let's face it, curiosity doesn't kill a cat, dehydration does. In fact, urinary system diseases are one of the most common cat health issues that end up killing them. According to statistics, 46.8% of cats have suffered from urinary system issues such as urinary calculus, cystitis, renal failure or urethral obstruction at least once in their lives. Having too much dry food or lack of proper fluid in-take can both lead to FLUTD. These cats usually are at higher risks of kidney or bladder problems due to the lack of water content. As a result, it is extremely crucial to provide our beloved cats easy access to fresh water at all times even when we are not around.
A beautifully crafted and ergonomically designed smart water fountain for cats that is easy to clean, encourages better water-drinking habits and helps you keep tabs on your kitten's water-intake right on your smart phone. – PURA
As we all know, cats are innately curious and hard to please. They are finicky, love to explore and are neat freaks. The best way to ensure they drink enough water is to make the water containers as appealing and clean as possible and place them in various parts of the house. With PURA's sleek design, no more excuse of being lazy.
Bright, Minimalistic and Ergonomic Design
Pura is created to fit into the aesthetics of modern homes with functional features and a sleek look that blends into the background perfectly. As cat owners, in order to maintain our kittens' interests in drinking water, we revamped the design of the water outlet as well as the speed and dimension of the spigot flow. With a 30-degree-angled design and 4mm-width water stream, it greatly decreases the neck burden for our best friend and creates a joyful water-drinking experience without wetting their whiskers.
360° Smart Cat Sensing Technology
Flowing Stream And Customizable Glowing Light
Pura's recirculating running water and exclusive Smart 360-Degree Cat Sensing Technology design allows kittens to drink from any angle without making a mess while Pura accu-rately detects and logs their water intake. In addition, the flowing stream and glowing light are a nice surprise for some extra fun to keep the kittens fascinated. We are hoping to become the best smart health product for your cats and help you take care of them whenever and wherever with BLE technology and NoaCare's exclusive Smart Health Management system.
Keep Tabs On Your Cat's Water-Intake Via Pura App
NoaCare created an one-of-a-kind monitoring system for Pura. This system allows cat owners like you to monitor the water-intake of your beloved kittens and determine if he or she is having enough water even when you are not around. Pura also logs the kitten's activities and offers suggestions on proper dieting and water drinking that helps elongate his or her life. Also, if there's a sudden fluctuation or dramatic shift in his or her intake, you will be the first to know. Now you can spend more quality time with your beloved kitten which brings so much joy to your life.
Pura makes water-drinking fun and appealing for cats.
Cats today eat a lot of dry food which has low water content (only 10%) and they need extra water to maintain a healthy body. As a result, for cats who do not like to drink water will be more likely to suffer from inadequate water consumption and develop urinary issues and even kidney deterioration. With Pura, drinking water becomes a fun game for the cats while maintaining their health. This is more than just a water bowl. Please visit our Kickstarter to read more.
For further details about the SMART WATER FOUNTAIN FOR CATS visit link below
PURA IndieGoGo Debut – June 23rd 2015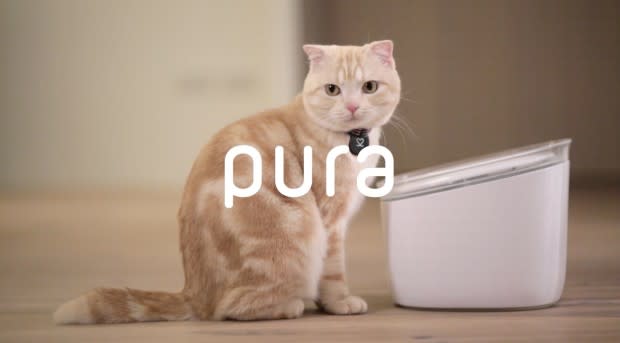 Distributed by CrowdfundingPR
Media Contact
Company Name: Pura
Contact Person: Jasmine Chang
Email: jas@u-niqe.com
Phone: +886 963 789 700
Country: United States
Website: http://u-niqe.com