A type of high-end private car always represents the social status of urban elites who are successful in their businesses. However, the traffic jam and tense parking space make them be in badly need of a type of short-distance travel transport. Such a transport should be cutting-edge, comfortable and convenient. Fosjoas V9 electric scooter just meets these requirements.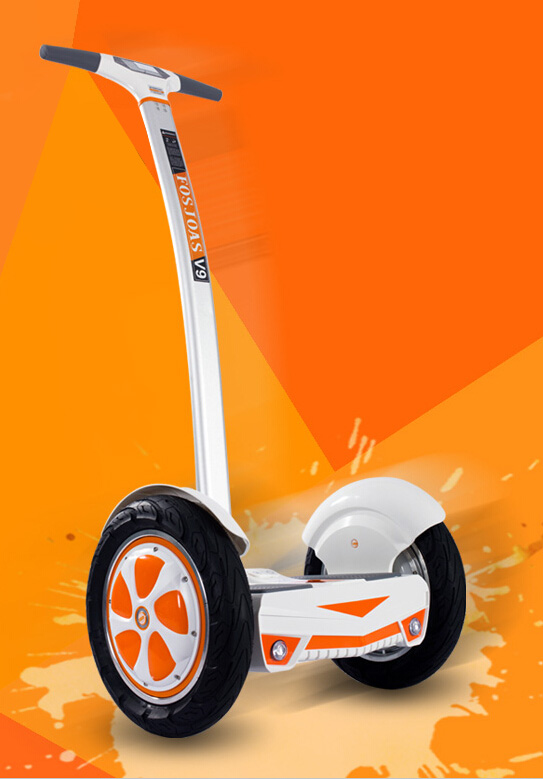 Two-wheeled design, appropriate color match and human-engineering handle of Fosjoas V9 self-balancing scooter give people a strong sense of nobleness and comfort. The built-in intelligent system can respond to riders' commands at any time, which makes control more smoothly. The front and back self-balancing has been achieved by aerospace attitude control theory, fuzzy software algorithm and gyroscope system. Riders can realize front and back controls, like accelerating, decelerating and braking by slightly leaning forward or backward. The adopted Japan-made 520Wh lithium-ion battery offers longer range and service life. Generally speaking, fully-charged battery is able to support 50km, which can cover almost all of short-distance travel needs in elites' daily life.
Fosjoas V9 electric scooter is also equipped with several user-friendly designs. Human-engineering handle comes first, which guarantees comfortable riding experience. Besides, natural silica crashworthy bar is specially installed on the back of handle. Music play function makes journey more delightful. It also supports Bluetooth connection. Young CEOs can play the melodious songs in their phones anytime and anywhere. The 4-inch LED displayer is installed on the center of handle, which clearly offers real-time speed, outdoor temperature, remaining electricity and total mileage.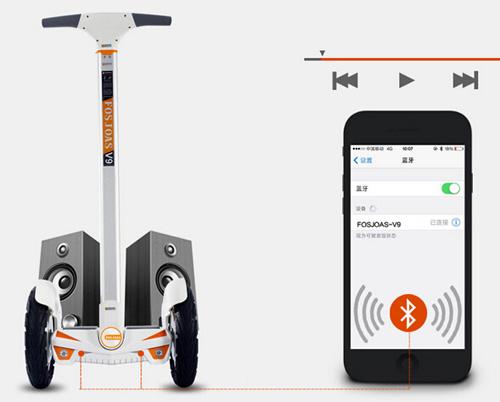 All in all, Fosjoas V9 two-wheeled self-balancing electric scooter is the best travel transport for those successful business talents in terms of powerful performance and high-end appearance. It plays a bridge role between driving car and walking. It not only caters for their social status, but also satisfies their daily travel demands.
Media Contact
Company Name: MOBEN INT'L (ENGLAND) CO., LTD
Contact Person: Jason
Email: moben@fosjoas.com
Address:Room 707, Block A, Electronic Science & Technology Building, No.2070, Shennan Middle Rd.
City: Shenzhen
State: Guangdong
Country: United Kingdom
Website: http://www.fosjoas.com