Taunton, MA – On January 26 2016, Kimberly Vincent launched a GoFundMe campaign, Community Bags for Foster Kids in Massachusetts, to help make sure that every foster child has the basic essentials they need when being moved around in the system.
"We can make a difference in a child's life. When all their hope is lost, when the system lets them down, when they must gather their belongings once again, we will be there with them," says the creator, "Community bags for Massachusetts Foster Kids may not seem like much, but they know with each bag that we, the community, cares when everyone else has let them down."
Each Community Bag will consist of a duffle bag filled with a 4-piece hair brush set, journal, a 7-piece personal hygiene kit which includes body wash, soap, tooth brush, toothpaste, shampoo, and shaving cream (since some of these kids are teens) along with a teddy bear, and a fleece blanket.
Community Bag's for Foster Kid's in Massachusetts is a non-profit fund raising event – 100% of the money raised will go to buying supplies needed to put together the bags and to cover fundraising costs such as flyers, distribution and our GoFundMe fees.
Foster parents have no real control when a child leaves their home. They need to accept the court's decisions regardless to how much the children improve in their care… As a foster mom, Kimberly Vincent was inspired to start this project to help not only her own kids but as many as possible who are going through these difficult transitions. It's her way of temporarily making sure they have the basic needs as they start a new journey.
"My name is Kimberly Vincent and I am a foster mom (kinship). I started this fundraiser out of anger. You see I tried to fight the system, right the wrongs of children who have no rights but I got nowhere. I needed to turn all my sleepless nights of worry and nightmares to something positive so I went beyond the need of the two children I foster and love and care for. I had to somehow save as many kids as I could. I do not intend to fail them like the system has; won't you please help me let them know the community can make a difference? Go to https://www.gofundme.com/ha3jzmnm and show them."
Most foster kids are allowed a trash bags when traveling between homes, but trash bag aren't meant to lived out of. This is definitely not the answer to the system's problems but Vincent hopes that it can be small step in making this type of transition a little bit easier and more dignified for every child, especially when it's not the child's choice.
For more information, please visit the GoFundMe page here or contact the creator below.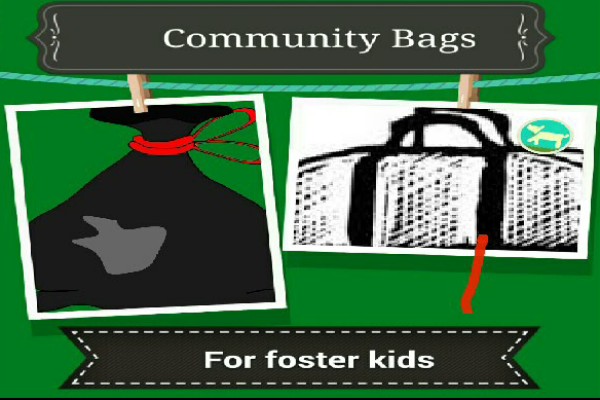 Distributed by CrowdfundingPR
Media Contact
Company Name: Community Bags for Foster Kids
Contact Person: Kimberly
Email: communitybags@gmail.com
Phone: 774-274-3544
Country: United States
Website: https://www.gofundme.com/ha3jzmnm