With the development of the mobile Internet, mobile applications come to people's life on different aspects no matter work or entertainment. Besides, various needs are generated simultaneously and file transfer is one of them.
WIFI hotspot transmission is among the most innovative way to transfer files to each other. It doesn't consume traffic, you don't need a data cable and memory card. You can transfer files just by creating a hotspot which can be established between different phone types, mobile phone and PC. It's 50 times faster than Bluetooth.
Therefore, we can conclude that file transfer especially the WIFI hotspot transmission plays an important part in emerging countries whose internet infrastructure are still insufficient to satisfy the needs of smart phone users. India takes a big part of the world P2P file transfer industry thus having an in-depth analysis of the situation in India industry trends is showing a potential high value of the world market.
India total number of mobile phone users reached 600 million people, compared with the population, the mobile phone penetration rate reached 47%, what means that less than half of the population use mobile phones. The use of smart phones amounted to 120 million people what means that only about 10% of the total population use smartphone. According to the report by Xender smart phones accounted for 24% of all mobile phones. Currently when it comes to smartphone sales is still over 10% lower than older generation phones.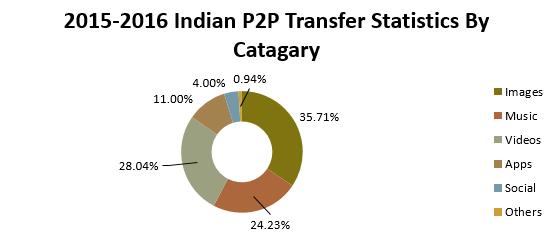 Xender cooperated with Yeahmobi have an in-depth analysis of the habits' of Indian P2P file transfer users and find that the most popular category of files were images, accounting for 35.71%, followed by videos and music, with respectively 28.04% and 24.23%. The transfer of smartphone apps constitutes less, just 11%. Classically Indian culture favored performance art and also it is visible in terms of transferred files. Movies, comedy shows. etc. Surprisingly the total amount of transfer of social apps(Facebook, Whatsapp, etc) accounted for only 4% of transfers.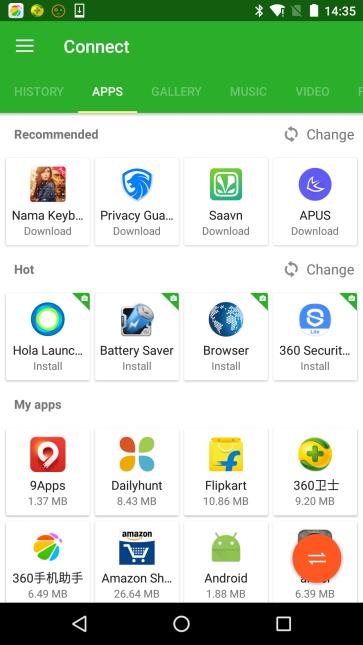 Currently the mobile P2P transfer applications on Indian market are based on the users need to quickly meet for low cost wireless transfer. The product design of P2P apps is becoming increasingly simple, and the general user experience improves on a daily basis. In Xender the increasing number of functions and some "shortcuts" are making it constantly easier for the users.
Such internet and app products are a way to really help India in its development as an economy in transition, as the second large developing economy, Indian unique national conditions and customs will cause a rapid development of P2P transfer industry. There is still many challenges laying ahead but mobile P2P transfer apps seem to have a bright future.
More industry data and market analysis can be find in?2015-2016 Global File Transfer—Analysis of Indian Market?, please down load from http://www.shanchuan.cn/p2p/xender.pdf
Media Contact
Company Name: Xender Team
Contact Person: Media Relations
Email: Sally@xender.com
Country: China
Website: www.xender.com