Santorini, Greece – On March 29 2016, Andronikos Papadopoulos launched an Indiegogo campaign to save a deserted traditional Cavehouse in Santorini and transform it into a modern bioclimatic residence, where people can enjoy an unforgettable stay.
"In Santorini, locals have been building their unique homes for centuries by drilling deep into the volcanic rock. These Cavehouses were easier and cheaper to build, while also providing protection from the harsh winter winds and extreme rays of the sun in the summer heat," the creator explains, "These Cavehouses are a fascinating glimpse into the history of the island, and also happen to provide some of the greatest views in the Mediterranean."
One of these Cavehouses was passed down to Papadopoulos by his great grandfather, a local fisherman who needed a low-budget house close to the spot of his profession – fishing. Located at the very edge of the volcanic cliff of Akrotiri village in Santorini, Greece, the Cavehouse is now more than 100 years old and has remained uninhabited and deserted for decades. Knowing what beauty and potential this Cavehouse holds, Papadopoulos has decided to share with the world his passion for restoring this Cavehouse and this part of Santorini's history.
Once the renovation is complete, the existing Cavehouse will be expanded by drilling even further into the volcanic rock. The house's total surface will increase to 80 sq m (860 sq ft), which will be enough for a spacious living room, a bedroom, an interior swimming pool, a kitchen and a WC. The current rooftop will be transformed into an entertainment area that will include a comfortable living room, a BBQ area, an external swimming pool, a home cinema corner, and a spacious veranda for relaxing and enjoying the breathtaking view. These features bring the Cavehouse into the 21st century and make it an ideal destination for visitors to Santorini's shores.
"The purpose of this fundraising project is to save the Cavehouse from falling into ruin. My goal is to renovate this rare and spectacular structure with strict respect for local architecture, character, and style, transforming it into a modern bioclimatic rental residence," says Papadopoulos, "However, this project can't be realized without your valuable and much needed support!"
In exchange for pledging to the project, backers can gain access to a variety of rewards including a Santorini Fridge Magnet for $7, having your name carved on the Cavehouse's external wall for $20, and many more. Backers can also pledge $59 for a two-day stay at the renovated Cavehouse, $349 for a one-week honeymoon stay, or $4,000 for the right to stay at the Cavehouse for two weeks, every year, for the next ten years!
For more information, please visit the Indiegogo page here or contact the creator below.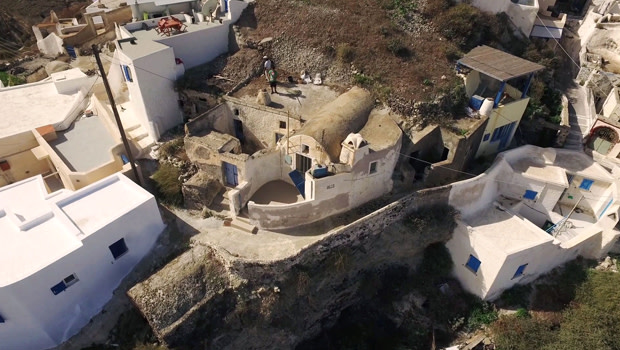 Distributed by CrowdfundingPR
Media Contact
Company Name: Santorini! The Cavehouse Project
Contact Person: Andronikos Papadopoulos
Email: cavehouseproject@gmail.com
Country: Greece
Website: https://www.indiegogo.com/projects/santorini-the-cavehouse-project#/