Las Vegas, NV – Nick Groat recently launched an Indiegogo campaign for Safe Life Defense Multi-Threat Body Armor, the ONLY bullet, strike and slash resistant body armor that was engineered specifically for security, first responders and civilians! Groat has raised over $10,516 so far, with 10 days left to reach his $15,000 funding goal.
"Our high quality concealable vests are incredibly affordable. With full side protection, our vests offer 15% more coverage than our competitors!" says the creator, "Sizing is available from S-XXXL to fit nearly all body types. For those who simply cannot afford the protection they need, we provide our armor at no cost through The Safe Life Defense Guardian Angel Program."
Body armor is legal for anyone with a clean criminal record in all 50 states. This means that Safe Live Defense can be used by anyone looking for affordable protection. From families, security organizations, hunters, emergency medical teams, and law enforcement, to bank employees and executives – Safe Life Defense protects everyone. These vests are truly remarkable, with bullet resistance that meets the standards of used by Law Enforcement and the National Institute of Justice.
Safe Life Defense also offers optional hard plates in conjunction with a Safe Life Defense vest that will protect against rifle threats. The vests are also designed to be strike and slash resistant. Some other thoughtful design elements include a cooling mesh liner, water resistant polyester, adjustable straps for comfort and fit, and two hidden plate pockets. Safe Life Defense vests can be concealed under a shirt or light jacket, giving the wearer (and their loved ones) peace of mind.
"I knew that, with your help, I could not only start a solid defense company, but I could get our vests to people who need them the most – men and women who face compromising situations every day. The conversations I have with these people prove to me that this is what I am meant to do," Groat explains, "I cannot thank everyone enough for their support."
In exchange for pledging to the project, backers can gain access to a variety of rewards including a display bullet from a test vest for $25, a tribute to Safe Life Defense in a beautiful display case for $55, or the chance to select a recipient of The Guardian Angel Program for $100. Backers can also pledge $349 to buy or donate a NIJ level iiia Safe Life Defense Vest or $607 for a Rifle Protection Set. Finally, for only $3,000, they will donate a vest a month in honor of your pledge for two years!
For more information, please visit the Indiegogo page here or contact the creator below.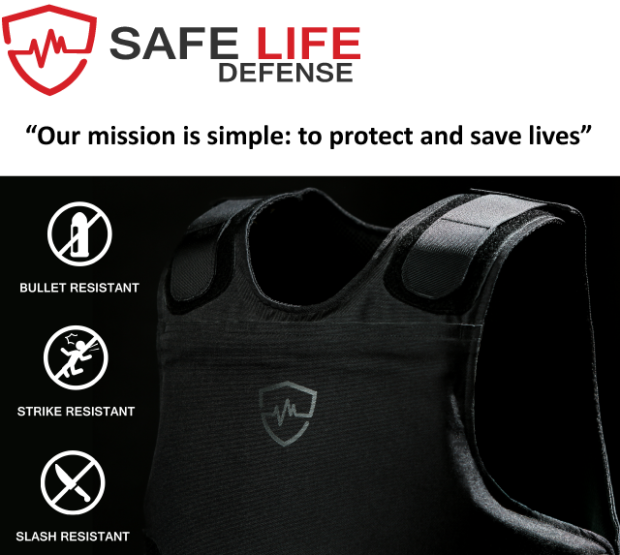 Distributed by CrowdfundingPR
Media Contact
Company Name: Safe Life Defense
Contact Person: Nick Groat
Email: Nick@SafeLifeDefense.com
Phone: 702-829-4029
Country: United States
Website: http://www.SafeLifeDefense.com