London, UK – The Leafxpro team is excited to announce the launch of their Indiegogo campaign for LEAFXPRO 2, the bicycle umbrella that protects you from bad weather conditions. We all know some people who like to ride their bike in any weather. Now there is a way to do it comfortably and safely!
"The idea of the Leafxpro became real when we decided that riding our bicycles on sunny days just wasn't enough," the creators explain, "We asked ourselves why people tend to use limiting transportation when they can have the freedom of just picking up their bikes and riding as they please without the stress of car congestions, schedules or overcrowded buses and trains! So we started thinking that there had to be an efficient, durable, versatile, comfortable, stylish, ergonomic and easy to use way to ride from A to B, even with bad weather conditions."
The Leafxpro kit is modular so that the user can adjust the degree of protection depending on all kind of weather conditions. The Leafxpro also comes complete with reflective material to keep you safe when you are riding at night. After placing the permanent fasteners on the bike, the Leafxpro is very easy to assemble or disassemble without any special tools. The mounting process is simple and fast; it only takes about 1 minute!
There are two accessories that can be attach to the Leafxpro: the Storm Accessory and the Baby Accessory. The Storm Accessory provides rear and side protection to the rider, and the two side panels can be detached through a couple of zippers. The Baby Accessory provides protection to children transported in their baby seats. This accessory can also be combined with the Storm Accessory to provide safety to both, the rider and the child.
"During the last two years we researched, designed and tested the best materials and structures so we could create the easiest and safest bicycles umbrella: the Leafxpro!" says the team, "We need your help to speed up the manufacturing process so we can deliver to the promise of becoming a sustainable mobility product and improve people's lives."
In exchange for pledging to the project, backers can gain access to a variety limited of rewards including a LEAFXPRO Kit with a carry bag for as little as $49, a LEAFXPRO Kit with a Storm or Baby accessory for $89, and more. Backers can also pledge $99 to receive two LEAFXPRO Kits or $149 for two LEAFXPRO Kits, two Storm accessories, and two carry bags.
For more information, please visit the Indiegogo page here or contact the creator below.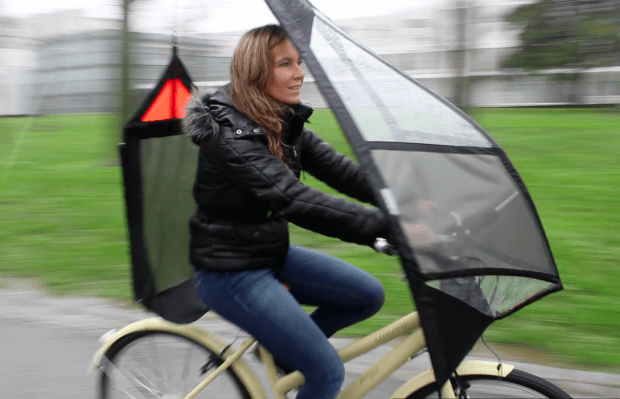 Distributed by CrowdfundingPR
Media Contact
Company Name: LEAFXPRO 2
Contact Person: Media Relations
Email: geral@leafxpro.com
Country: United Kingdom
Website: https://www.indiegogo.com/projects/leafxpro-2-bicycle-every-day–4#/