Graves Bros. Home Improvement of Rochester, NY, has received GAF's 2015 President's Club Award. A GAF Master Elite(R) contractor since 2013, has provided roofing, remodeling, and solar services to the greater Rochester area since 1977.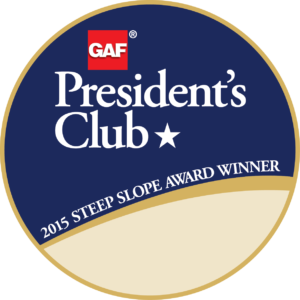 Rochester, NY – June 2, 2016 –
Graves Bros. Home Improvement Co. of Rochester, New York, has received the most prestigious contractor award GAF has to offer: The GAF President's Club Award. This highly coveted award recognizes Graves Bros. Home Improvement as one of the "elite of the elite" residential roofing contractors in the United States.
GAF is North America's largest roofing manufacturer, and only GAF Master Elite(R) Contractors can compete for its residential President's Club Award. To qualify for this award, a residential roofing contractor must demonstrate an exceptional level of excellence in their business, especially in the areas of Installation Excellence, Consumer Protection, and Installer Training.
Graves Bros. Home Improvement has been a GAF Master Elite(R) Contractor since 2013. To become a Master Elite(R) Contractor–a status that less than 2% of roofing contractors nationwide have achieved–a candidate must demonstrate proper licensing and adequate insurance, have a proven reputation and show commitment to ongoing professional training.
Combining quality, service, and support, Graves Bros. Home Improvement is nationally recognized in the industry. "We can handle multi-phase jobs, whereas many of our competitors perform only limited or single services," says president Charles Graves.
Proud to offer services in roofing, siding, windows, doors, insulation, remodeling, and solar, Graves Bros. is one of the largest and oldest home-improvement contractors in its market. "We have a very low turnover in our office, sales, and production staff," states Graves. "Our sales force offers a thorough and comprehensive home presentation and analysis for a client's roofing, siding, and window projects, using the new Hover and Eagleview software products on their tablet and laptop computers. Whatever clients' home-improvement dreams are, our consultants help design a solution that meets their needs, both aesthetically and functionally. And we give a free written estimate that describes each project in detail."
"We support our local neighborhood association and are actively involved with our local Upstate Building Industry Alliance," adds Graves. A Rochester "Top 100" company, Graves Bros. is one of Qualified Remodeler magazine's top 500 companies in the nation and an EPA-certified lead-safe firm. The company holds an A+ rating from the Better Business Bureau.
Going forward, Graves Bros. aims to maintain its leading role in the local home-improvement market and increase its market share in the solar panel field. "We're a one-stop shop," concludes Graves, "and take care of all facets of the project, from roofing to remodeling–so clients don't have to juggle multiple contractors. Our clients feel we offer them the best value, which is a combination of price, quality, and the assurance that, if there is a problem, we'll resolve it in a timely manner. For nearly four decades, Graves Bros. has had a reputation for quality and integrity, so customers can be sure we'll be here to stand behind our work."
About Graves Bros. Home Improvement Co.
As a family owned and operated home-improvement business, Graves Bros. is proud and privileged to have served the greater Rochester area since 1977. Over the years, the company has been recognized for many local and national awards. Graves Bros. appreciates the support of its 16,000 past clients and promises to maintain the same philosophy as when it first started: putting the needs of clients first.
Graves Bros. Home Improvement
755 North Winton Road
Rochester, NY 14609
(585) 288-3390
http://www.gravesbros.com
Facebook: https://www.facebook.com/Graves-Bros-Home-Improvement-Co-106828512684893
About GAF
Founded in 1886, GAF is the largest roofing manufacturer in North America. The company's products include a comprehensive portfolio of steep-slope and commercial roofing systems, which are supported by an extensive national network of factory-certified contractors. Its success is driven by its commitment to Advanced Quality, Industry Expertise, and Solutions Made Simple. GAF was the first roofing manufacturer to offer a Lifetime limited warranty on all of its laminated shingles, which then evolved with the introduction of the GAF Lifetime Roofing System by extending the Lifetime coverage beyond just the roofing shingles.
For more about GAF, visit http://www.gaf.com
Media Contact
Company Name: Graves Bros. Home Improvement
Contact Person: Charlie Graves
Email: info@gravesbros.com
Phone: (585) 288-3390
Country: United States
Website: http://www.gravesbros.com