Baseball USA becomes Houston-based Program 15's new home for Player Training and Development.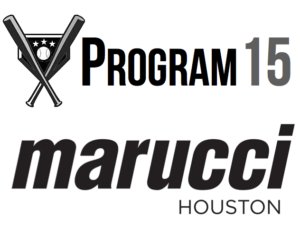 Program 15, innovators in baseball player development and training for all ages, and Marucci Houston, one of the top amateur baseball programs in the country, have announced a strategic collaboration that will provide the most comprehensive player development and training experience available.
Jeremy Booth, President and Director of Development for Program 15, says of the collaboration, "Program 15 and Marucci don't just complement each other, this combination will exponentially strengthen the core value of the two organizations by allowing us each to focus on what we do best."
What Program 15 does best is player development at an individual level. They don't organize travel teams, manage rosters, or set lineups. Booth and his organization have built a reputation for their ability to develop top baseball talent of all ages by focusing on the individual player.
Booth explains why this unique system attracts so many serious athletes, "The benchmark for our success is not about putting the best nine guys on the field to win a tournament and collect another trophy. Our players don't call us 'coach,' because we're not their coach, we don't get involved with coaching their teams. Our mission is to develop each individual player's ability to his full potential, then to get that player the results that their ability deserves. Our commitment is the same, whether it's a young man with the desire to move from select ball to playing in high school, from high school to being recruited by a Division 1 college or from college to MLB draft pick."
Program 15 looks at each player through individual Scouting evaluations, then applies Major League teaching based on those evaluations, which goes much deeper than learning how to swing a bat a certain way or how to throw a changeup. With a faculty and advisory team of former Major League players, including Booth's experience as a player and MLB Scout, Program 15 is in a league of its own when it comes to player development.
During a recent interview with Talking Stros Radio Show, Booth detailed his process, saying, "We start with the scouting evaluation of the player and we grow him into his role. Scouting evaluation, it takes many different things to do it. It takes physical analysis, it takes athletic analysis, it takes baseball analysis with tools and how they turn into skills. That changes at each particular level. The beauty of our staff and our goals, we're able to give families a step-by-step basis of what they should be seeing out of their players. That helps these kids grow into who they want to be and hopefully impacts lives."
In contrast to Program 15's focus on the individual, Marucci Baseball is one of the most recognized and respected organizations for developing young players within a team environment, backed by the experience and guidance, both on and off the field, from Major League talent including MLB All-Star Adam Dunn.
According to Booth, this contrast is what makes the teaming of the two organizations so valuable for the players. "Baseball USA is a Houston Landmark, and Marucci has done an outstanding job of establishing it as an elite destination for youth and high school baseball teams. These guys do an incredible job giving young, talented players the opportunity to put their abilities to work in a team environment, and I am looking forward to working very closely with the Marucci staff to impact the game of baseball. As Marucci says 'honor the game,' we say 'change the game.' We're working together to make sure we achieve those goals. The ideology lines up very well."
Marucci Houston's general manager, Chris Schultea, echoes Booth's sentiments, "When Jeremy first reached out to us, we immediately felt the synergy between the two programs. We both are big believers in development and not playing the game year-round. There needs to be some downtime, which falls in place for Program 15 for the training and the downtime and the recovery time. Marucci Houston believes in development first, rather than win at all cost, so we felt that by pairing both programs together, now having them under one roof would be a marriage made in heaven."
It's easy to understand why the combination of Marucci Houston and Program 15 under one roof now has some Major League veterans and local sports media referring to the 40,000 square foot indoor training facility at Baseball USA as 'Prospect City.'
To hear Jeremy Booth's full Talking Stros interview visit: http://www.program15.com/climbing-tal-s-hill
To learn more about Program 15 visit: http://program15.com
To learn more about Marucci Houston / Baseball USA visit: http://maruccielitehouston.net
Media Contact
Company Name: Authority Media Group, LLC
Contact Person: Rachel Allen
Email: press@authoritymediamarketing.com
Phone: 713-242-1662
Country: United States
Website: http://program15.com