Cindy Suarez, coauthor of the new feel-good anthology book series The Silver Linings Storybook: Successful Leaders Share Inspiring Stories of Overcoming Stormy Days in Personal and Professional Life will be visiting Toronto from Puerto Rico this month.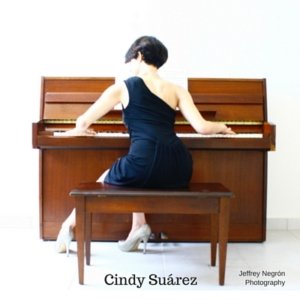 Suarez will be available in Toronto from Wednesday June 22, to Monday June 27 to meet with media and organizations for private performances.
She will also be performing at the official book launch party of The Silver Linings Storybook Volume 1 – her publisher Debbie Horovitch of Social Sparkle & Shine is looking to confirm available locations with a well maintained piano on site, that would love to welcome Suarez for scheduled private performance for their community. Media channels and organizations that advocate for the success of deaf and hard of hearing individuals, in the Toronto area, will be given priority for scheduling.
The Silver Linings Storybook launched earlier this year and published landing on two #1 Paid Bestseller categories on Amazon.com
Suarez participated in the first edition of the new storytelling book series The Silver Linings Storybook, to share her story and develop a platform of support for her message that deaf and hard of hearing people who experience similar challenging social situations due to hearing loss can also realize valuable advantages as a result of their ability to creatively overcome everyday challenges.
Throughout her life Suarez hasn't been encouraged to participate in, or to pursue her passion and talents for piano as a career. She followed social expectations for her to "fit in" and as a result wouldn't ask her peers or colleagues to speak more slowly, and often wouldn't reveal her disadvantaged status to a potential employer, knowing she wouldn't be considered a candidate.
While her employers try their best to accommodate her situation, she reports that in Puerto Rico and around the world, deaf and hard of hearing people are simply not provided workplace accommodations such as special telephones – putting them at serious professional disadvantage and risk – and are often treated by coworkers as if they are stupid.
Her own professional experience has been that many employers are intolerant and not accommodating for deaf people, seeing hearing loss as a clear disadvantage, Suarez is ready to perform for organizations and speak for professional groups on the benefits of hiring a deaf or hard of hearing employee, especially for client-serving roles in social services.
"I learned to embrace my advantages of being deaf while my Piano was creating in me an instrument of healing. Now, I am blessed and extremely excited to open up and share my story, my gift and my passions for piano. I can't wait to perform my favorite classical pieces to the world and meet more people with hearing loss and Pro-deaf organizations."
Similar to famed writer Napoleon Hill's son, who was born without visible ears, Suarez's story is inspiring to everyone, demonstrating that no matter what the presumed – and obvious – disadvantage you have, it can be embraced and recognized as your own truly unique advantage.
Accomplished pianist Suarez lost her hearing at age three and began taking piano lessons in her childhood. While being trained by her early piano teachers, they weren't even aware of her hearing loss. She uses hearing aids to assist her other highly-developed senses and Suarez – who speaks both English and Spanish fluently and reads lips – says that it's the vibrations, and feeling of the sounds of music that allow her to excel in piano, and to claim the most physical benefits from the activity of creating music.
Recently Suarez has begun posting videos of her playing piano to YouTube, in the hopes of spreading awareness for her message that deaf people can learn to embrace the advantages that exist in being deaf or hard of hearing:
Suarez also recently published an article to LinkedIn outlining the primary advantages that deaf people bring to their roles and responsibilities in the workplace https://www.linkedin.com/pulse/from-adversity-advantage-6-powerful-advantages-being-deaf-su%C3%A1rez
Interested parties can also attend the Volume 1 book launch events in Toronto on June 23, 24, and 25. http://www.thesparkleagency.com/launch-party-tickets-the-silver-linings-storybook/
To find out more about Cindy Suarez visit her website www.cinsuco.com or to book her time in Toronto reach out to her publisher of The Silver Linings Storybook, Debbie Horovitch by calling 416-553-2157.
Media Contact
Company Name: Social Sparkle & Shine
Contact Person: Debbie Horovitch
Email: debbie.horovitch@gmail.com
Phone: 416-553-2157
Country: Canada
Website: http://www.thesparkleagency.com/launch-party-tickets-the-silver-linings-storybook/