Want To Donate Money To The Victims Of The Orlando Shooting But Are Unable To Due To Extenuating Circumstances? This Free Fundraiser Is For You.
In light of the recent tragedy At Pulse Orlando, A Gay Nightclub in Orlando Florida, The World has Come Together in an outpouring of Love and Support of the Victims and their families by providing Various Means of Support, both financial and otherwise. Many people all over the US have donated blood, volunteered their time, as well as donated money. But what about those who have the desire to donate but are unable to donate blood, time or money?
This is where a unique and free fundraising opportunity is presented.
RxYouSave is a company that gives away free prescription discount cards. The RxYouSave Card is accepted at over 60,000 Pharmacies Across The US. The names of the Pharmacies that accept the RxYouSave Free Prescription Discount Card are ADS, Albertson's, BI-LO, Brookshire's, Costco, CVS, Epic Rx, Food Lion, Fred's, Giant of Carlisle, Giant of Maryland, HEB, Ingles, KMART, KROGER, Publix, Rite Aid, Safeway, Stop and Shop, Supervalu, Target, Walgreens, Walmart and Winn Dixie. From Now until August 31, 2016, RxYouSave will be launching a Free Fundraising Campaign in order to help the Victims of the Orlando Shooting.
• 100% of the funds raised will go to benefit the Victims and Their Families.
In order to help, All someone has to do is visit RxYouSave.com to print out a card or right click, download and print out a card from one of the images at the bottom of this press release and take it with them to the pharmacy when they pick up their prescriptions. Pharmacy Staff Members enter in the the Card's BIN, PCN & GRP Information and they will receive their discount. The Card Is Available In Both English And Spanish. The RxYouSave card is completely HIPAA compliant. The Fundraising Campaign has a unique Group Number (RXBENEFIT) for payment tracking purposes. The compensation plan is as follows:
| | |
| --- | --- |
| # OF PRESCRIPTIONS | $$ PER PRESCRIPTION |
| 1 – 5,000 | $1.75 |
| 5,001 – 9999 | $2.00 |
| 10,000 – 20,000 | $2.50 |
| 20,001+ | $3.00 |
Money is paid for every medication that is filled using the RxYouSave Free Prescription Discount Card. For example, if you have 5 medications that you take per month, then at $1.75 per medication filled that comes out to $8.75. With the outpouring of support that has come out for the Victims of the Orlando Shooting, it will not take long to reach the $3.00 commission mark. In that case, 5 medications filled will allow you to donate $15.00. Once the number of medications filled with the Card reach 20,001 and above, the donation will be $3.00 per medication filled. This donation price per medication filled will never go down and will include ALL medications filled. All money raised will be paid out on September 21, 2016 and will be given to The National Compassion Fund.
For more information, or to schedule a media interview, please call Jessica Golden at 678-395-9365 Between the hours of 9am and 9pm (Eastern Time) Seven days per week. Jessica can also be reached by email at jessica@rxyousave.com
If you'd like to learn more, or to print out a Free RxYouSave Prescription Discount Card to help the Victims & Their Families, please visit RxYouSave.com or right click, download and print one of the following images below: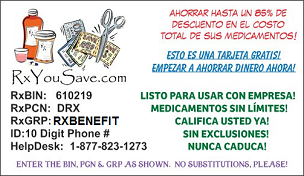 RxYouSave is a company that distributes Free Prescription Discount Cards throughout the United States. This is accomplished by forming Card Distribution Partnerships with various Businesses, Organizations and other Entities. Partnership Opportunities are available for Hospitals, TeleMedicine Companies and Physicians Offices; Free Fundraising Opportunities are also available for Nonprofit Organizations and Schools.
Distributed by PREngine
Media Contact
Company Name: RxYouSave.com
Contact Person: Jessica Golden
Email: jessica@rxyousave.com
Phone: 678-395-9365
City: Orlando
State: FL
Country: United States
Website: http://rxyousave.com/