Everett, WA – On July 5 2016, SONT launched an Indiegogo campaign for its newest product, ScootMatic, the ½ bike ½ scooter that is 100% electric. The Scootmatic has been designed to be easily foldable, transportable, and is perfect for commuters everywhere.
"Do you ever get frustrated by traffic in urban environments? Expensive fuel?" the team asks, "The Scootmatic solves all of these transportation problems. The Scootmatic weighs in at only 35 pounds and drives up to 28 miles on a single charge. It folds up in five seconds, and can be easily rolled behind you or lifted up a flight of stairs. The Scootmatic is compact. It can fit into the trunk of your car, under your bed or into your closest for easy storage."
The ScootMatic is an electric scooter/bike combination with a K-shaped design that is bound to turn heads. The ScootMatic folds to take up minimal space and once unfolded can reach speeds of over 15 MPH. With its simple, minimalist design, you can have the ScootMatic open and ready to go in just three easy steps!
With four different gears the ScootMatic can climb uphill, or ride smoothly and with speed on flat surfaces. The Scootmatic features Bluetooth speakers to listen to your favorite tunes on the road, a USB charger to keep all of your electronics charged, LED Headlights to drive at night, and an LED screen for all your riding information. The ScootMatic is being introduced by SONT, a publicly traded US company.
"SONT specializes in product development including brand development and market research. We find manufacturing sources for products and develop marketing plans for these brands," the team says, "We have product development and marketing experts who can take an idea, realize it as a product and market it to the world. This is what we do."
Now the team has turned to the Indiegogo community for help funding the manufacturing of their latest product, ScootMatic, and to start spreading the word. In exchange for pledging to the project, backers can gain access to a variety of rewards including The Scootmatic itself, which can be purchased for $1299 on Indiegogo for a limited time. It will retail for $1799 – that's $500 off MSRP!
For more information, please visit the Indiegogo page here or contact the creator below.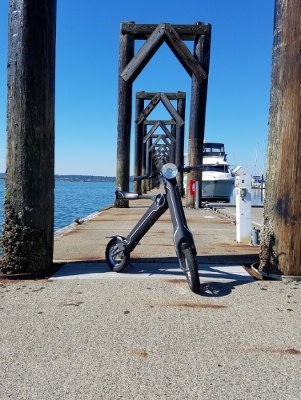 Distributed by CrowdfundingPR
Media Contact
Company Name: Seen On Screen TV INC.
Contact Person: George Jarjour
Email: George@sont.tv
Phone: (425)367-4668
Country: United States
Website: http://www.SONT.TV