"Major companies contributing to global unified communications market share are Cisco Systems, Microsoft Corporation, Avaya Inc, and Alcatel-Lucent."
":Unified Communications (UC) Market – Global Industry Analysis Report, Share, Size, Growth, Price Trends and Forecast, 2015 – 2022"
The size of the global unified communications market was evaluated at 34800 million US dollars during year 2015 in terms of revenue. It is predicted that the total revenue would grow more than 95000 million US dollars by the end of year 2023.
Aspects like growing acceptance of BYOD (Bring Your Own Device) by many of the emerging firms, increasing virtualization of business processes and growing market penetration of mobile equipments at workplace have resulted in growing demand & growth of the global unified communications market.
Further, growing reputation of video as a communication tool and desktop embedded with video facility are few of the aspects adding to the growth & expansion of the global industry.
Today, firms are finding unified communication as a tool to enhance employee efficacy and minimize price while reducing the emission of greenhouse gases. Small and medium firms as well as big firms have understood the significance and advantages of unified communications. This has propelled the growth of the unified communications industry/sector. Also growing reliance on cloud activities as main means of management & information/data storage is also one of the aspects promoting the growth of the global unified communications market.
Browse full market research report on, "Unified Communications (UC) Market Size By Application (Education, Enterprise, Healthcare, Government), By Product (Hosted/Unified Communications as a Service (UCaaS), On-Premise), Industry Analysis Report, Regional Outlook, Application Potential, Competitive Market Share & Forecast, 2016 – 2023", please click on the link below:
http://www.fractovia.org/news/industry-research-report/unified-communications-market
However, few of the factors that have hindered the growth of the global unified communications market are high initial installation costs, high proportion of complexity, unsure ROI related with this new technology and heavy reliance on virtual world.
Based on the product type, the global unified communications market is divided into cloud based system and on premise system.
Cloud based system provides flexibility. Firms installing these systems can add new features to these systems if and when needed. In addition to this, the system offers various advantages to the firms that include better streamlined access to organization data and minimized cost of infrastructure. These systems are a best fit for geographically/ topographically distributed firms.
On premise systems are easy to handle, provide good control abilities and offer customization. It requires well trained staff and good maintenance facility.
Depending upon the end user applications, the global unified communications market is bifurcated into education, government, healthcare and enterprises.
Enterprises section contributed about half of the total share of the global unified communications market during year 2013. The growth of the section can be credited to growing acceptance of information technology in business procedures by enterprises and advantages like effective collaboration and mobility offered by unified communications technology to enterprises. Further, unified communications helps enterprises to have good functional agility, better employee coordination and best client engagement.
Government section, education section and healthcare section are few of the other sections that are predicted to witness significant rise in demand for unified communications technology.
Europe unified communications market size, by application, 2012 – 2023 (USD Billion)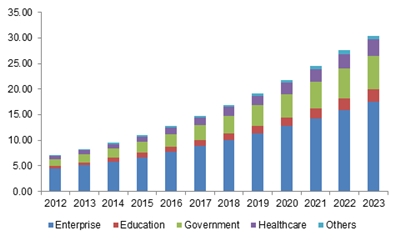 Growing initiatives taken by government in order to enhance their procedural efficacies and improve their applications have made it a rapidly emerging section in the global unified communications market. The demand of the unified communications technology in government applications is predicted to expand during the forecasted span.
Based on the geographical locations, the global unified communications market is divided into North American subcontinent, APAC zone, European continent and region of rest of the world.
The subcontinent of North America contributed maximum share to the total share of the global unified communications market. The industry is featured by the presence of main industry participants in subcontinent and high reputation of BYOD services in regions of North American subcontinent.
APAC zone and European continent are predicted to be rapidly emerging regions. The aspects that can be credited to the growth of the unified communications market in these regions are effective collaboration, cost savings and efficient communications.
Large proportion of population and extension of accelerated data networks in countries like India and China have resulted in increased demand for the uniformed communication systems in these regions of APAC zone. Wider acceptance of modern systems and good infrastructural growth in these regions of APAC zone has increased the demand for uniformed communications in these regions.
Key industry participants involved in the business of unified communications and stimulating the growth of the global unified communications market includes:
IBM Corporation
ShoreTel
Siemens Enterprise Communications Gmbh & Co. Kg
Unify GmbH & Co.KG
NEC Corporation
Cisco Systems Incorporation
Microsoft Corporation
Alcatel-Lucent
Polycom Incorporation
Verizon Communications
Avaya Incorporation
HP
Plantronics Incorporation
Huawei Technologies
About Fractovia.org
Fractovia.org is one of India's leading in-house and free news total admin portal. It is fully automated, and operates on a constant premise, interfacing with news sites and offering redesigned breaking features to readers all across the globe.
Our mission is to offer individuals opportunities for connections with news writers and distributors which they can pursue.
We operate by mapping articles pertaining to breaking news, constantly and progressively, against a pre-determined word-based theme, offering important connections to readers and clients, as well as distributers.
Media Contact
Company Name: Fractovia.org
Contact Person: Jack Davis
Email: sales@fractovia.org
Phone: 1 302-846-7766
Address:29L Atlantic Avenue, Suite L 105
City: Ocean View
State: Delaware
Country: United States
Website: http://www.fractovia.org/news/industry-research-report/unified-communications-market/