"Fredericksburg TX Real Estate Market Report. The 1st half of 2016 in Gillepsie county is continuing to stay strong!"
Fredericksburg TX home prices at all time high! The Fredericksburg Texas real estate market is continuing to stay strong in 2016 with home sales reaching record levels.
At the most recent Gillespie County leadership breakfast, local Realtor Mike Starks gave a presentation concerning the overall Fredericksburg Texas Real Estate market. Mr. Starks gave a thorough report showing the Gillespie County real estate market is continuing to stay strong for the first half of 2016. Though the presentation covered both land and commercial real estate the topic that had everyone's attention was the skyrocketing home prices!
"The average home sales price for the first six months of 2016 was $351,664" Starks said. "That's up from $298,640 in 2015″ the difference marks nearly a 15% rise in home prices"
The overall strength of the Texas real estate market remains strong, however Mr. Starks went on to say "the appreciation weare seeing in the market is great from a standpoint of an investor, but with home prices increasing it is becoming harder for many people to afford to own their own home in Fredericksburg."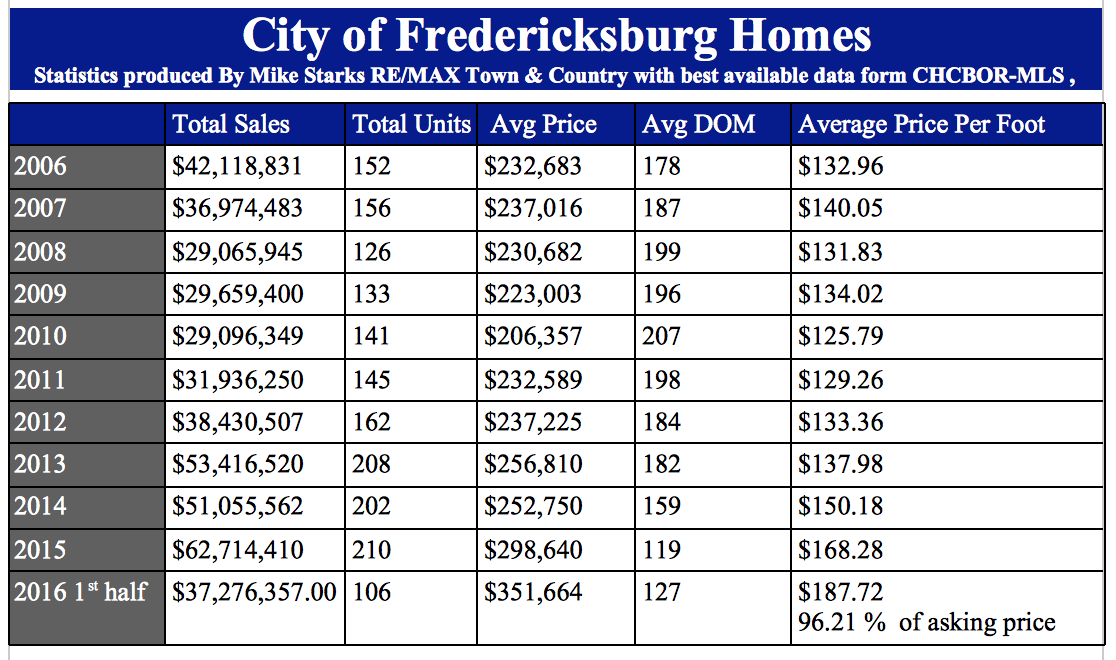 The 2016 average home price in Fredericksburg of $351,664 is also represents a 34.9% increase over the past five years when in 2010 the average price was $232,589. "If you been investing in the Gillespie County real estate market is certainly done better than just about any other investment vehicle out there. I'm not sure where else you could make a 34.9% gain in five years! The future also looks bright not only for Fredericksburg but most economists are saying the Texas real estate market will continue to be strong in the foreseeable future as people move away from paper assets to more tangible investments," said Mr Starks.
For anyone interested in the complete leadership breakfast presentation prepared by Mr. Starks it is available online at: http://www.mikestarks.com/fredericksburg-tx-real-estate-market-report/

Media Contact
Company Name: Mike Starks – RE/MAX Town & Country
Contact Person: Mike Starks
Email: mike@mikestarks.com
Phone: 8309908708
Address:116 East Austin
City: Fredericksburg
State: Texas
Country: United States
Website: http://www.mikestarks.com/