Barcelona, Spain – Jordi Rocafort recently launched an Indiegogo campaign for the E-kick eScooter, an advanced electric scooter that's the perfect solution for urban commuters. The E-kick eScooter is compact, lightweight, and environmentally friendly, with a maximum speed of 30km/h.
"A new way of living is coming and we have an example in our city with the recent introduction of the first Smart City Area in Spain," the creators explain, "We are committed to the idea of making the city a nice and peaceful place for its people, promoting social cohesion and citizens' participation, a place to enjoy life creating space not only for vehicles but for people. We implemented all these ideas in one device and today we are proud to introduce the E-kick electric scooter, a new way of moving around the city, quickly, safely and having fun, while reducing noise and emissions."
Whether you are a businessman, office worker, student, adventurer, or senior citizen, you can go everywhere with the E-kick eScooter. Combining minimalist design and the latest technology, this electric scooter folds and unfolds on just one second and features a multifunctional display with three speed levels.
For this Indiegogo campaign, the E-kick eScooter comes in four different colors: pink, orange, blue, and black. It was created using a comfortable ergonomic design and High Grade Aviation Magnesium Alloy for a strong frame. The E-kick eScooter only weighs 7.8 kg, making it easy to take with you wherever you need to go.
"We introduced the original e-kick Electric scooter, for test, on January 2016 and have listened to feedback from riders all over the world. We implemented that feedback into the final product to achieve the definitive final E-kick version," the team says, "We need your support to go to production and fulfill factory requirements to reward you with your own early bird e-kick electric scooter. We are very excited to have you as a customer and we hope you can join and ride e-kick with us."
In exchange for pledging to the project, backers can gain access to a variety of rewards including one E-kick eScooter Standard for €349 or the E-kick eScooter Pro for €399.
For more information, please visit the Indiegogo page here or contact the creator below.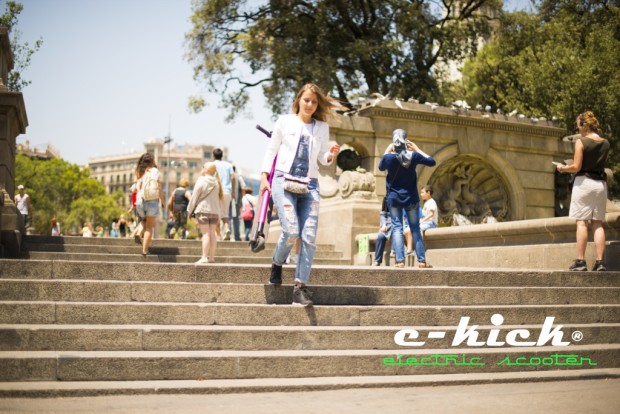 Distributed by CrowdfundingPR
Media Contact
Company Name: E-kick eScooter
Contact Person: Jordi Rocafort
Email: info@e-totem.es
Country: Spain
Website: https://www.indiegogo.com/projects/urban-electric-scooter-e-kick-e-scooter–2#/