Hsinchu, Taiwan – Yantouch recently launched an Indiegogo campaign to introduce EyE Balls, a new and innovative portable Bluetooth speaker. With an appearance inspired by modern Nordic design and high sound quality, EyE speaker exquisitely combines music with light and movement.
"With a Swiss horn resonance tube built-in, EyE speaker delivers very powerful yet natural sounding bass," the creators explain, "The energy-saving LED light can sync with music and video. It's a portable light show with millions of colors that let you to see the rhythm of music."
A great conversation piece, EyE speaker's bright LED lights sync with your music while little white balls dance to the sound of the bass in the second piece of the speaker. So far the Indieogog campaign has raised 45% of its funding goal with more than three weeks until the campaign closes.
Yantouch is collaborating with a leading IC design house in Taiwan to customize a Bluetooth chip which not only consumes low power, but also provides very high efficiency sound output. Using this new Bluetooth chip, both pieces of EyE speakers pair up automatically. It's the world first zero button, auto pairing True Wireless Stereo speakers, just like latest iPhone7's AirPods.
EyE speaker is an innovative product in the speaker market, with more capability than its top competitors. It works without a power button, just flip the handles and the EyE Balls speaker will automatically pair up, as easy as opening your eyes. The Li-polymer rechargeable built-in battery can offer up to 20 hours of playtime, longer than the Bose Mini 2 and the JBL Pulse 2 combined!
"We are also developing an iOS/Android app that provides users with more functions such as natural wake and sleep through LED lights that gradually dim out and brighten up," says the team.
In exchange for pledging to the project, backers can gain access to a variety of rewards including one EyE Balls speaker for as little as $89, two speakers for $188, and more. Backers can also pledge $890 for ten EyE Balls speakers.
For more information, please visit the Indiegogo page here or contact the creator below.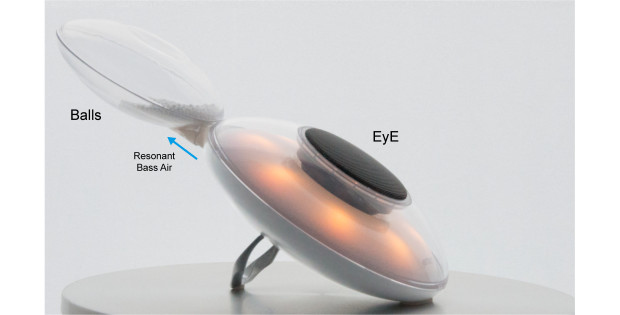 Distributed by CrowdfundingPR
Media Contact
Company Name: Yantouch
Contact Person: Media Relations
Email: jason.liu@yantouch.com
Country: Taiwan
Website: http://www.yantouch.com