Since the game DDT Бумз launched in Russia, it was well-received by many players and got featured by both VK and Google Play in Russian-speaking countries. But that wasn't all the good news for DDTank. The publisher Proficient City announced today that the game DDTank Brasil also got featured by Google Play after the new version 2.3 was launched. This is the fourth time that DDT Brasil is featured by Google Play!
DDTANK Brasil Evento de destaque: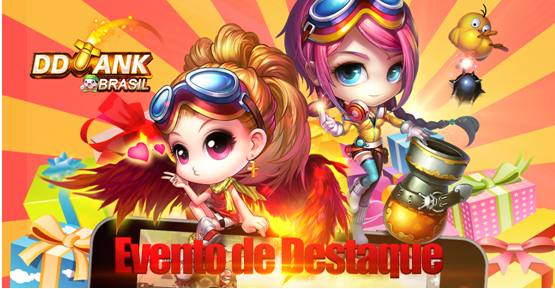 DDTank is a cute casual online multiplayer mobile game in which you can participate in Duels, Guild Battles and PvP that can be challenging to even the most skilled players. Explore mysterious fortresses and distant worlds. Challenge the new world boss: the powerful Dark Dragon. Collect masks, hairstyles and suit sets, as well as weapons that look cooler as they power up. With unique features like endless dungeons with different difficulties for every kind of player, amazing PVP and GVG battles online with friends, a Fashion system that allows the players to personalize their characters, the popular marriage system that enables players to create social bonds with the community, the opportunity to play offline as good as a friendly gameplay focused in delivering the best experience; we are not surprised to hear that DDTank has been featured by Google Play!
New events with the theme DDTANK Fairytale have been under progress. Lots of interesting stories have been made, and Chippy always plays a leading character, which makes the stories even more surprising! There's a great variety of fan made stories, videos and pictures, and the lucky players whose stories get chosen will get special rewards! As of today, the DDTank Team has already received several that have impressed them.
Since DDTank was released in many different countries, Chippy became pretty well-known on a more global scale. And the best part is that everyone loved him, not only because of his cute looks but because of his unique charisma! As DDTank's mascot, this little chick is used to having its face on different products like mugs and cushions, which are sometimes sent to the players as gifts during certain events. When DDTank Brasil released the 2.3 version on October, some DDTank mugs were sent to the players.
Chippy even has his own personal Instagram! ( https://www.instagram.com/chippy_ins/ ).
DDTank likes to stay active with its player base and always tries to make the game as enjoyable as possible for every single fan.
About Proficient City
Proficient City, a branch of Game Hollywood, is an international online game company with offices in China, Europe and Montreal. They specialize in innovating operations and strive for a perfect balance between content, gameplay and storyline.
Media Contact
Company Name: Proficient City Limited
Contact Person: Paris Huo
Email: contactus@proficientcity.com
Phone: 86 020 8405 6975
State: Guangdong
Country: China
Website: http://www.proficientcity.com/