Fixler Roofing of Medina, OH, has received GAF's 2015 President's Club Award. A GAF Master Elite(R) contractor since 2013, it strives to give superior workmanship, honest pricing, and the best service and customer satisfaction possible.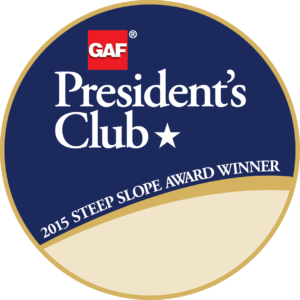 Medina, OH – 02 Dec, 2016 – Fixler Roofing LLC of Medina, Ohio, has received the most prestigious contractor award GAF has to offer: The GAF President's Club Award. This highly coveted award recognizes Fixler Roofing as one of the "elite of the elite" residential roofing contractors in the United States.
GAF is North America's largest roofing manufacturer, and only GAF Master Elite(R) Contractors can compete for its residential President's Club Award. To qualify for this award, a residential roofing contractor must demonstrate an exceptional level of excellence in their business, especially in the areas of Installation Excellence, Consumer Protection, and Installer Training.
Fixler Roofing has been a GAF Master Elite(R) Contractor since 2013. To become a Master Elite(R) Contractor–a status that less than 2% of roofing contractors nationwide have achieved–a candidate must demonstrate proper licensing and adequate insurance, have a proven reputation and show commitment to ongoing professional training.
After growing up with his family's roofing and sheet-metal business in Alabama, David Averette eventually opened Fixler Roofing in Medina, Ohio. Today, the company offers various exterior home-improvement services and products, including new construction, roof replacement, roof cleaning, gutters, siding, flashing work, emergency leak response, and storm-damage repair. Fixler Roofing's service area covers Medina, Brunswick, Wadsworth, Aurora, Kent, Akron, Canton, Barberton, Copley, Cuyahoga Falls, Fairlawn, Hudson, Norton, Stow, North Olmsted, Rocky River, Westlake, Middleburg Heights, North Royalton, Olmsted Falls, and surrounding areas.
The company offers a full line of residential services, including replacement roofs in asphalt shingles, rubber roofs, and metal roofs. When leaks are present, the company locates the source of the problem and fixes it efficiently, to keep out the rain and prevent further damage. Other residential exterior services and products including preventive maintenance, fall and spring housekeeping, core analysis, wall flashing, heat cables, chimney tuck pointing, and reflective roof coating and restoration. Fixler Roofing is able to recycle 100% of tear-off materials from residential roof replacements.
On the commercial side, Fixler Roofing offers full roof replacements, as well as new construction, including tear-offs and disposal of old roofs. The company can add value to a business, not only making the facility look new but also improving the efficiency of the building. Replacing a roof can add value to a business in more ways than one; it can make the facility look like new and also improve the efficiency of the building inside and out. Fixler Roofing also provides commercial roof coatings, drains, and gutters.
A Habitat for Humanity roofer, the company is an Angie's List Super Service Award winner. It is accredited by the Better Business Bureau and holds an A+ rating. With the goal of always working toward the highest standards in the roofing industry, Fixler Roofing brings its customers the best quality, knowledge, and service.
About Fixler Roofing LLC
A local, family-owned and -operated business, Fixler Roofing strives to give superior workmanship, honest pricing, and the best service and customer satisfaction possible. Offering commercial and residential roofing services throughout northeastern Ohio, the company offers roofing, exterior services and products, and emergency leak response.
Fixler Roofing LLC
3644 Abbeyville Rd.
Medina, OH 44256
(330) 247-2211
http://www.fixlerroofing.com
Facebook: http://www.facebook.com/fixlerroofingllc
Twitter: http://www.twitter.com/medinaroofing
YouTube channel: http://www.youtube.com/user/fixlerroofing
About GAF
Founded in 1886, GAF is the largest roofing manufacturer in North America. The company's products include a comprehensive portfolio of steep-slope and commercial roofing systems, which are supported by an extensive national network of factory-certified contractors. Its success is driven by its commitment to Advanced Quality, Industry Expertise, and Solutions Made Simple. GAF was the first roofing manufacturer to offer a Lifetime limited warranty on all of its laminated shingles, which then evolved with the introduction of the GAF Lifetime Roofing System by extending the Lifetime coverage beyond just the roofing shingles.
For more about GAF, visit http://www.gaf.com
Media Contact
Company Name: Fixler Roofing LLC
Contact Person: David Averette
Email: david@fixlerroofing.com
Phone: (330) 247-2211
Country: United States
Website: http://www.fixlerroofing.com