Nomad Roofing of Edmonton, Alberta, Canada, has received GAF's 2015 President's Club Award. A GAF Master Elite(R) contractor since 2013, it was founded on the principles of quality products, exceptional service, and competitive pricing.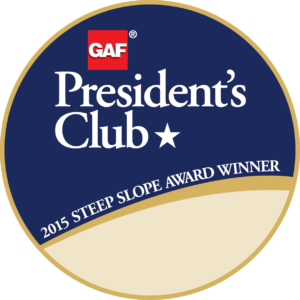 Edmonton, AB – 02 Dec, 2016 – Nomad Roofing of Edmonton, Alberta, Canada, has received the most prestigious contractor award GAF has to offer: The GAF President's Club Award. This highly coveted award recognizes Nomad Roofing as one of the "elite of the elite" residential roofing contractors in Canada.
GAF is North America's largest roofing manufacturer, and only GAF Master Elite(R) Contractors can compete for its residential President's Club Award. To qualify for this award, a residential roofing contractor must demonstrate an exceptional level of excellence in their business, especially in the areas of Installation Excellence, Consumer Protection, and Installer Training.
Nomad Roofing has been a GAF Master Elite(R) Contractor since 2013. To become a Master Elite(R) Contractor–a status that less than 2% of roofing contractors have achieved–a candidate must demonstrate proper licensing and adequate insurance, have a proven reputation and show commitment to ongoing professional training.
Since 2006, Nomad Roofing has been building quality roofs of distinction and class, with a focus on informative, accurate estimates, quality craftsmanship, and total customer satisfaction. Having earned a reputation for excellence, the company can take on virtually any new roofing construction project. Its team of roofers works quickly and efficiently, ensuring that each project gets finished correctly and on time.
The company works with every aspect of residential and new construction roofing, performing new roof installations and roof repairs, as well as meeting the special requirements of roofing for condominiums and multi-family homes. From eavestroughs to ventilation to underlayment, as well as shingling and flashing, Nomad Roofing's professionals take care of every step of installation, using only quality products. Nomad Roofing's services also include expert soffit and fascia installations to ensure a perfect, beautiful finish. The company has a solid reputation for safe, efficient work in virtually any environment.
A GAF Certified Green Roofer(TM), Nomad Roofing takes steps to preserve the environment by recycling asphalt shingles whenever possible to keep that material out of landfills. The company is a member of the Alberta Construction Safety Association and the Alberta Allied Roofing Association. Nomad Roofing is accredited by the Better Business Bureau and holds an A+ rating.
Through dedication to its guiding principles, Nomad Roofing has seen tremendous growth over the years. However, it doesn't measure success through numbers and growth, but through constant improvement and always striving to be the best. The company pledges to offer superior products, installed by professional roofers and backed by exceptional service and the best warranties available. Nomad Roofing's vision is to lead the industry to a higher standard of quality and professionalism, one home at a time.
About Nomad Roofing
Incorporated in 2006, Nomad Roofing was founded on the principles of quality products, exceptional service, and competitive pricing. Locally owned and operated, it offers a personalized roofing experience for its customers and continues to earn business through hard work and word-of-mouth referrals. Nomad Roofing strives to raise the professionalism of the industry every day, putting its customers' needs ahead of the sale every time.
Nomad Roofing
16720 111 Ave
Edmonton, AB T5M 2S5
Canada
(780) 686-8386
http://www.nomadroofing.ca
Facebook: https://www.facebook.com/Nomadroofing
Twitter: https://twitter.com/nroofing
About GAF
Founded in 1886, GAF is the largest roofing manufacturer in North America. The company's products include a comprehensive portfolio of steep-slope and commercial roofing systems, which are supported by an extensive national network of factory-certified contractors. Its success is driven by its commitment to Advanced Quality, Industry Expertise, and Solutions Made Simple. GAF was the first roofing manufacturer to offer a Lifetime limited warranty on all of its laminated shingles, which then evolved with the introduction of the GAF Lifetime Roofing System by extending the Lifetime coverage beyond just the roofing shingles.
For more about GAF, visit http://www.gaf.com
Media Contact
Company Name: Nomad Roofing
Contact Person: Erin Juszkiewicz
Email: info@nomadroofing.ca
Phone: (780) 686-8386
Country: Canada
Website: http://www.nomadroofing.ca