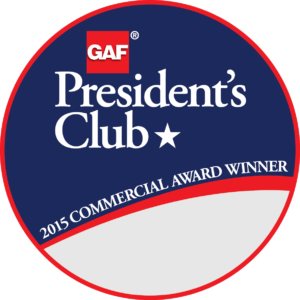 South Sioux City, NE – 03 Dec, 2016 – JC Roofing & Insulating of South Sioux City, Nebraska, has received the most prestigious contractor award GAF has to offer: The GAF President's Club Award. This highly coveted award recognizes JC Roofing & Insulating as one of the "elite of the elite" among commercial roofing contractors in the United States.
GAF is North America's largest roofing manufacturer, and only GAF Master Select(TM) Contractors can compete for its commercial President's Club Award. To qualify for this award, a commercial roofing contractor must demonstrate an exceptional level of excellence in their business, especially in the areas of Installation Excellence, Property Owner Protection, and Installer Training.
To become a Master Select(TM) Contractor–a status that less than 1% of roofing contractors nationwide have achieved–a candidate must demonstrate proper licensing and adequate insurance, have a proven reputation, and show commitment to ongoing professional training.
Founded in 1984, JC Roofing & Insulating has grown to establish itself as a leader in the roofing industry. The company has expanded each year to better service its clients in the Sioux City and Siouxland markets. Having worked on projects throughout the Midwest, the company has achieved a high level of satisfaction with its customers and maintains a large percentage of repeat business, as well as referral business from previous clients. Quality craftsmanship is the hallmark of JC Roofing & Insulating.
A certified installation contractor for many of the largest manufacturers in the industry, the company works on a variety of single-ply (TPO and PVC), built-up, and EPDM roofing systems. Some of JC Roofing's notable clients include Shopko Stores, Sunnybrook Community Church, Hormel Foods, Con Agra Foods, and Sioux City and South Sioux City community schools.
On the residential side, the company expertly installs roofs that provide the ultimate level of protection for decades to come. Homeowners are contacted to schedule the work, and staff members are prepared to thoroughly answer all homeowner questions. When the estimator comes to the home, the homeowner is presented with all of the options and recommendations for the roof. Upon work completion, the project manager ensures that the work has been done to the homeowner's satisfaction.
JC Roofing & Insulating is a member of ISNetworld and the National Roofing Contractors Association. It stands ready to perform all residential, commercial, and industrial roofing and gutter services and repairs. The company will travel to wherever the customer needs it, whether the job site is down the block or a few hundred miles away. JC Roofing & Insulating is proud of its work, always getting the job done while still remaining cost-effective for the customer.
About JC Roofing & Insulating
JC Roofing & Insulating has served Nebraska, Iowa, and South Dakota for more than 30 years. A second-generation family business, the company services all residential and commercial roofing applications, with an expert level of quality that customers can depend upon.
JC Roofing & Insulating
717 W. 16th St.
South Sioux City, NE 68776
(402) 494-6492
http://www.jcroofing.co
Facebook: https://www.facebook.com/JCRoofingInsulating
LinkedIn: https://www.linkedin.com/in/john-cain-03a2b946
YouTube video: https://www.youtube.com/watch?v=Ip7yHnJ-gn8
About GAF
Founded in 1886, GAF is the largest roofing manufacturer in North America. The company's products include a comprehensive portfolio of steep-slope and commercial roofing systems, which are supported by an extensive national network of factory-certified contractors. Its success is driven by its commitment to Advanced Quality, Industry Expertise, and Solutions Made Simple. GAF was the first roofing manufacturer to offer a Lifetime limited warranty on all of its laminated shingles, which then evolved with the introduction of the GAF Lifetime Roofing System by extending the Lifetime coverage beyond just the roofing shingles.
For more about GAF, visit http://www.gaf.com
Media Contact
Company Name: JC Roofing & Insulating
Contact Person: John Cain
Email: ROOF14U@AOL.COM
Phone: (402) 494-6492
Country: United States
Website: http://www.jcroofing.co