A special edition copy of a new book for African-American mothers is set to go on pre-sale on Tuesday, January 17, 2017, the National Day of Racial Healing.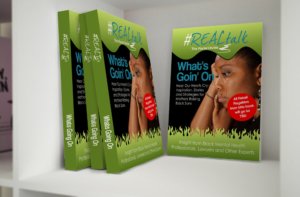 A call for healing from both President Obama and President-elect Donald Trump highlights the importance of January 17, 2017, the National Day of Racial Healing.
Initiated by the W.K. Kellogg Foundation's Truth, Racial Healing & Transformation (TRHT) enterprise, the National Day of Racial Healing aims to help Americans heal and overcome deep racial divisions.
Also joining in on this important cause is Augmented Publishing Group (APG), a boutique publishing company in Los Angeles, CA, and the nonprofit MOBSTER.
MOBSTER, which stands for Mothers of Black Sons Teaching Empowering and Reclaiming, is a Facebook support group and nonprofit organization dedicated to mothers of black sons. APG has partnered with MOBSTER to pre-sell "special edition" copies of their upcoming book, "#REALTalk: The Racial Divide – What's Going On, Hear Our Hearts Cry: Inspiration, Stories, and Strategies for Mothers' Raising Black Sons," and will be donating a portion of the proceeds to the organization.
The National Day of Racial Healing will kick off APG's "5-5-5 Challenge" crowdfunding campaign where they will be asking members of the African-American community to pre-purchase a copy of the book. Their goal is to get 5,000 people to participate and help pre-sell 5,000 copies in 45 days. They are asking everyone to not only buy a copy for themselves, but for any mother they know raising a black son. The campaign will run through February and continue through the end of black history month.
"This is a monumental time in our country, with Dr. Martin Luther King Jr's birthday being celebrated on Monday, the first ever National Day of Healing on Tuesday, and a few days later, President-elect Donald Trump entering office," says Lisa Williams, President of APG. "I was compelled to contribute to the racial healing in America, and specifically in the African-American community, and I can't think of a better way than to provide a resource that supports mothers raising black sons."
The National Day of Racial Healing "is a response to the broad call for racial healing following the contentious rhetoric, hate crimes, and vivid expressions of racism," explains the Kellogg Foundation.
MOBSTER and APG hope one of the proactive steps people make on the National Day of Racial Healing is to pre-order a book specifically written for that very reason.
"We want peace to be in our communities, we want to be able to walk down the street, we want to let our kids out the house and have peace of mind knowing that they're going to come back home safely," says Kandis Askins, Co-Founder of MOBSTER.
On the importance of this book project, the other Co-Founder of MOBSTER, Tasha Williams, explains, "it's extremely, extremely important because some mothers don't know where to go for help. As black mothers, we internalize a lot of things and we're afraid to ask for help because we're always supposed to be so strong. We have to be strong for everybody; we're not supposed to break."
"The resources are there and the healing is there," Askins says. "Why not take the opportunity to go and purchase a book that's going to help the healing begin?"
"I am thrilled to be partnering with MOBSTER and help raise money to support the important programs they are implementing," Lisa Williams says. "The #REALTalk book is an important resource in the healing process for mothers raising black sons."
To learn more about how to pre-purchase a copy of the book, visit www.realtalkracism.com
To learn more about MOBSTER, visit www.m-o-b-s-ters.org
ABOUT MOBSTER
MOBSTER's mission is to teach, empower, reclaim, and restore the lives of black youth by instilling core values that will enable them to become strong, successful, well-rounded, productive members of society. They do this through encouragement, education, and empowerment projects with community partners.
MOBSTER is under the umbrella of True Praise Ministries DLN: 17053168311043.
Media Contact
Company Name: Augmented Publishing Group
Contact Person: Edie Edwards
Email: info@augmentedpublishinggroup.com
Phone: 866-386-2636
Country: United States
Website: http://www.leadingthewaybookprojects.com