Local Business Mavericks featuring Lisa Torba hits #1 on the Amazon.com Best Sellers List.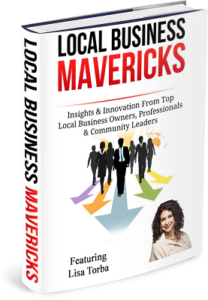 One of the nation's top image transformation experts, Lisa Torba, hit #1 on two Amazon.com Best Seller Lists for the recent release of Local Business Mavericks. Her book also reached #2 in the Customer Services category for the Kindle Store.
Local Business Mavericks is a compilation of one-on-one conversations with some of the top entrepreneurs in their industry designed to share their strategies to overcome the toughest obstacles standing in the way of their customers' success.
Torba's insight into personal branding has helped Senior Executives and CEO's be their most powerful & persuasive self. Whether it be in person, on stage, on television, or wherever they need to be influential, she helps them command the authority they need to successfully lead their businesses.
She states, "Image has an undeniable impact on your company's success. As your employees serve as ambassadors for your business, the appropriateness of their appearance – even on casual workdays – is crucial. How your employees groom and dress creates an immediate, lasting impression on every client and prospect they meet."
Torba has made headlines quite a bit recently, most notably for her ability to help people realize the power of their professional presence. By helping business professionals figure out their 'Signature Element', she's instilled in them a confidence and a look that has led to more clients and a higher income.
It's most likely for this reason that many people nationwide consider her the most real and relevant image consultant in tune with the marketplace today.
Lisa Torba's proven model for personal reinvention reconnects business professionals with their true power from their authentic self all while helping them reclaim clarity, confidence, and courage so they can realize their most ambitious goals and transform lives by simply showing up as their biggest, brightest self.
To learn more about Lisa Torba visit http://yoursignatureelement.com/
Local Business Mavericks is available on Kindle at http://www.amazon.com
Media Contact
Contact Person: Stacy Tigh
Email: stacytigh@gmail.com
Phone: (619) 540-7960
Country: United States
Website: https://www.linkedin.com/in/stacy-tigh-67314797