On Thursday, January 19th, Utah's Draper Lifestyle Magazine launched its first annual community health and fitness challenge.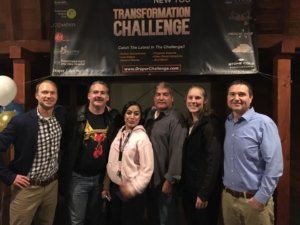 Thursday night at 7:30 pm, Draper Lifestyle Magazine invited local fitness businesses, community members and the area chamber of commerce to take place in its 1st Annual Transformation Challenge
Draper Lifestyle welcomed anyone interested to join its pool of potential contestants and receive free memberships, physical training and nutrition mentoring from seven participating fitness businesses.
The community fitness project is the brain child of brothers and magazine owners, Mark and Will Thackeray. The brothers felt compelled to do their part to improve the health and fitness of their community by utilizing their unique talents and gifts by bring business, community members and the city government together to foster healthy lifestyles.
Mark Thackeray was quoted as saying, "Our objective with the challenge is to not only help these seven contestants radically change their lives but inspire the community to affect positive changes to their lives as well by showing them multiple different ways towards a healthier, active lifestyle."
The businesses who donated their services and expertise to this project were: I Love Kickboxing Sandy, Total Health and Fitness, Pilates Revolution, Aerobatics, and Treehouse Athletic Club.
In total it is estimated that the value of each facility donated an average of $1,000 worth of goods and services per contestant. The training packages were awarded at random during the kickoff event. There were seven total winners who were chosen through a combination of lottery drawing and story submission, from over five hundred registered contestants.
There will be no "official" winner of the contest, as its intent is to promote healthy lifestyles and fitness. However, participants will receive such prizes as: a photo package, an additional free 90-day membership to their contributing health facility, and various swag from local merchants. The additional prizes are at the discretion of the participating facilities. Results will be announced on April 15th at 7pm.
"It was an honor to be part of this incredible program and contribute to the overall fitness level of our community," said Brett Lechtenberg – Owner of I Love Kickboxing Sandy.
For more information about this project and next years contest, contact Mark Thackery at 801-633-1853 or go to www.DraperLifestyle.com
Media Contact
Company Name: Total Success Business Solutions
Contact Person: Teresa Lechtenberg
Email: info@brettlechtenberg.com
Phone: 801-899-0330
Country: United States
Website: http://www.brettlechtenberg.com