Successful start to Belgium biotech start-up YUN's crowdfunding campaign
Ten days after launching their crowdfunding campaign on international crowdfunding platform Indiegogo Antwerp based biotech start-up YUN has already achieved 50% of its goal, gaining the support and trust of almost 100 people. The company is looking to bring skin care products based on friendly bacteria, a safe and natural alternative to antibiotics among other, to market with the help of the general public. Their unique technology resulted from groundbreaking research by the University of Antwerp.
Scientific first
YUN and UAntwerp announced their scientific breakthrough at the end of November 2016. Following years of research and development their teams managed to develop creams and sprays that contain friendly bacteria which combat spots, athlete's foot and vaginal infections, without damaging the skin's natural balance. In doing so, YUN takes an important step in the global fight against bacterial resistance.
Tom Verlinden, CEO of YUN: "Antibiotics and antifungal products are only too often used for common skin concerns, which means we run the risk of them losing their effectiveness when we really need them. We're offering a safe and effective alternative and in doing so are contributing towards a healthier society."
A company with a mission
Thus far the theory. If YUN is to fulfil its mission this scientific knowledge needs to be applied. Products need to become publicly available so that everybody is given the opportunity to see and experience the effect of friendly bacteria on spots, sensitive skin, athlete's foot and vaginal problems. YUN is appealing to the general public to help them achieve this mission. They are appealing to anyone who, like those first backers, is convinced it is high time to start loving our skin and our bacteria more.
50% of final target achieved already
YUN is looking to raise 20.000 US dollar through its crowdfunding campaign in order to bring the first 1.000 products to market and to help spread the philosophy behind probiotherapy. You can support YUN from 5 dollars, in exchange for a virtual thank you and a listing on the website. Those who wish to invest more will be rewarded with a product, a complete therapy, or even a visit to the laboratory and a meet and greet with the scientists. The campaign launched last week and has already achieved 50% of its goal.
If you too are convinced of the benefits of friendly bacteria please visit https://www.indiegogo.com/projects/yun-probiotherapy-love-your-bacteria for further details.
ABOUT YUN
YUN Probiotherapy is based on years of research and development by a team from the University of Antwerp led by bio-engineer and professor in Microbiology Sarah Lebeer and bio-engineer Ingmar Claes. They are supported by prof. Filip Kiekens, head of the department of Pharmaceutical Technology and Biopharmacy of the University of Antwerp and pharmacist Tim Henkens. The scientists' drive to find practical applications for their research brought them to Tom Verlinden. His background as a pharmacist led him to found biotechnology firm YUN. YUN has received the support of the Agency for Innovation through Science and Technology (IWT) and the Agency for Innovation and Entrepreneurship (Vlaio).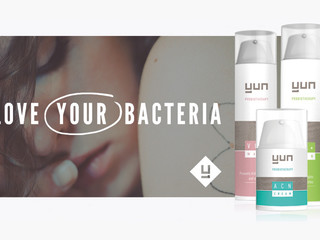 Distributed by CrowdfundingPR
Media Contact
Company Name: YUN Probiotherapy
Contact Person: Tom Verlinden
Email: tom.verlinden@yun-probiotherapy.com
Phone: +32 477 46 24 53
Country: Belgium
Website: https://www.indiegogo.com/projects/yun-probiotherapy-love-your-bacteria#/