Amish Outlet & Gift Shop wins Rochester's Choice Awards Gold Medal for the 5thtime in the Handcrafted Furniture category.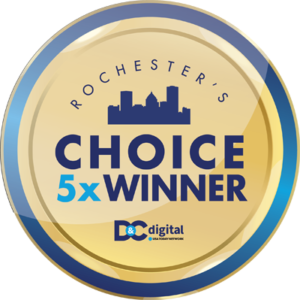 Each year Rochester, NY residents cast votes for their favorite local business in the city's main daily newspaper Democrat and Chronicle (D&C) Rochester's Choice Awards.
The D&C has been running Rochester's Choice Awards for the last 15 years and for the last 5 years in a row Amish Outlet & Gift Shop has been a Gold Medal winner in the Handcrafted Furniture category.
Participants of the Choice Awards vote for 10 different businesses that are divided into 4 major categories: Restaurant, Entertainment, Business/Service and Shopping, comprising a total of 125 different subcategories of businesses.
"This award is a testament to the heirloom quality wooden furniture that is created by Amish masters, often with input from our customers", said Edward Van De Water, a co-owner of the Amish Outlet & Gift Shop, a furniture store in the Rochester, NY area.
Amish furniture has been growing in popularity among value-conscious homeowners who appreciate handcrafted, one-of-a-kind hardwood furniture pieces that combine rustic looks with bold, rich hues. The ability to have input in creating their own furniture, which makes each piece more meaningful, as well as the fact that it is made in the USA, is very appealing to many.
Amish Outlet & Gift Shop makes it easy to select the furniture because it boasts one of the largest furniture showrooms in the Rochester, NY area.
The store has been selling Amish furniture for more than a quarter of a century and has been working with the same Amish craftsmen all that time. Working with the same suppliers for a long time builds trust and allows exploring new ideas that the customers might come up with. Delivering what people are asking and looking for allowed Amish Outlet to win a lot of loyal fans that keep coming back, and are happy to give their votes in Rochester's Choice Awards for their favorite handcrafted furniture store in Rochester, NY.
"The quality of the dining room set we recently got at the Amish Outlet & Gift Shop is unbelievable. We love hosting family dinners and having the whole family sit together around our beautiful table. I never imagined that a dining room table can do so much for bringing the family closer. It's a beautiful thing and we are grateful to the Amish Outlet", asserted Julie Cline, who recently bought a Mission Style set in cherry.
Visit Amish Outlet & Gift Shop online, or if you are in the Rochester, NY area, stop by the store at 3530 Union St. in North Chili, NY 14514
Media Contact
Company Name: Trusted Insights Press
Contact Person: Larisa Belliveau
Email: Larisa@TrustedInsightsPress.com
Phone: 585-420-6050
Country: United States
Website: http://TrustedInsightsPress.com