February 14, 2017 – Sisters and best friends, Lerner and Meyer now in their 70's, are continuing to enjoy new adventures and celebrating this Valentine's Day by writing a fictionalized romance novel influenced by their real lives, and planning location-themed travel and events around the locations in their book.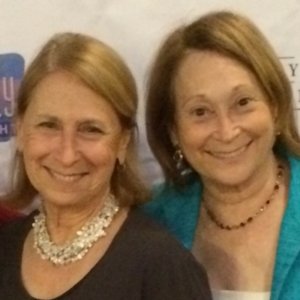 After writing the novel together over the last few years, they are ready for the next phase: publishing; the first edition will be in eBook and print formats to be available on Amazon.com this Spring.
They wrote this book because they felt that it was time to tell a story that mixes some romance and creativity with their diverse, real life experiences.
This story pulls from the authors' combined years of world travel, community service, heartbreak, and happiness. Throughout the highs and lows of their lives, the authors have always held sacred their families, friends and senses of humor, which has given them the courage to write their first novel at this stage in their lives. They are most thankful for their special bond, which has only deepened while working on this story together. Both sisters reside in southern California.
September, Somewhere is a work of fiction, however, the locations, characters, and experiences contained in this story are each influenced by actual events.
September, Somewhere book blurb:
Charlotte, Ryan and Mariella…three friends, from unique backgrounds, bonded at the most elite law school in America. On the eve of graduation they make a vow to once a year reunite for cocktails, catching up and whatever else the weekend brings.
They will meet September, Somewhere.
From New York to San Francisco, Paris to The Hamptons, these ambitious young lawyers will see their promised reunions drift from casual, nostalgic gatherings to something far more complex, as ego, greed and a secret lust threaten to fracture their bond. And then there's Bermuda, and that night on the beach that cannot be undone.
Inspired by true events, September, Somewhere is a peek behind the curtain at the world of young, top dollar lawyers, a place of status, suspect morals and infinite temptation.
Charlotte, Ryan and Mariella will each pick a different path through this complicated world, but once a year those paths intersect.
And that's when things get interesting.
The coauthors are pleased to speak about their experience of writing and publishing their first romance novel in their 70's and their plans for themed September, Somewhere events and communities.
Advance reader copies will be available through the book publisher, Debbie Horovitch of Social Sparkle & Shine in Toronto, Canada. http://theSparkleAgency.com
Media Contact
Company Name: Social Sparkle & Shine
Contact Person: Debbie Horovitch
Email: debbie.horovitch@gmail.com
Phone: 416-553-2157
Country: Canada
Website: http://thesparkleAgency.com