Hosted in the home of first time author Kathy Jalali and her family, all available copies of the bestselling lifestyle playbook "Happy Cinnamon" sold out at the launch event, raising more than $1,000 to benefit Project Turquoise.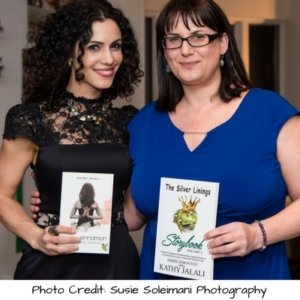 The "Happy Cinnamon" book launch event was attended by local entrepreneurs and friends and family of Kathy Jalali and her husband, Dr. Hamid Kazemi.
As an immigrant impacted by war and displacement, Kathy understands the trauma and anxiety that affects children from conflict areas. $1,012.27 raised directly from book sales at the event will be donated to Project Turquoise, a Relief International organization that works to empower women, children and families affected by conflict, specifically in Syria.
Attendees enjoyed presentations about the value of personal storytelling and the author's own inspiration to create her lifestyle playbook, "Happy Cinnamon".
Local Iranian musicians performed Persian Santoor music, accompanied by Rumi and Hafiz poetry. International hors d'oeuvres were catered by "Cooked Just For You".
"Happy Cinnamon" is a selection of short personal life reflections and Kathy's quest for personal fulfillment and happiness. In a time of war and multiple migrations, Kathy struggles with stability and self-identity. Parenthood and the practice of yoga encourage her to reconnect with her intuition and celebrate her roots. As she gradually learns to let go of self-imposed "obligations" and welcome "inspirations", she discovers her passion for becoming a wellness advocate. In this book, she provides a few of her insights and approaches in living a more meaningful life. Kathy believes that one of the first steps in living authentically is acknowledging our past. In telling the story of how we became who we are and of who we are on our way to becoming, the story itself becomes a part of our essence. She encourages all of us to embrace our personal stories — the stories make us come in terms with who we are and where we want to go.
"Happy Cinnamon" reached Number Sixteen on Amazon.com's Best Seller List in the Meditation and Personal Growth categories on on February 2, 2017, and her publisher Debbie Horovitch was there to present Kathy with a crystal bestseller award.
In response to the book selling out at the launch party, Jalali stated, "I knew that our friends and family would attend to support this book, and I was so surprised when people were buying 5 and 10 copies each!"
ABOUT THE AUTHOR
Kathy Jalali is a certified health and lifestyle coach and the founder of Happy Cinnamon. She helps busy individuals create simple and effective lifestyle practices that improve their overall state of well-being. A traveling yogi, Kathy's ten years of experience in the corporate world combined with a unique blend of art, science, culture, food, and music have developed her self-expression in exploring the mind-body connection. She believes that a combination of the best of ancient wisdom and modern science provides the most effective path to optimal health, peak performance, and ultimately happiness.
Kathy has degrees in microbiology and bio-resource engineering from the University of British Columbia, Canada, and an MBA from the University of California, Irvine. She is also a graduate of the Institute for Integrative Nutrition and is a certified yoga instructor. Kathy provides coaching services, creating customized strategies for those who are seeking life balance and better health. Kathy resides in Washington, D.C., with her husband and two daughters. She enjoys traveling, watching her children laugh and play together, and breathing deeply as often as possible.
To learn more about, Kathy Jalali, visit: http://happycinnamon.com or email: kathy@happycinnamon.com
To learn more about Project Turquoise, visit: http://www.ri.org/donate-project-turquoise
Happy Cinnamon is now available on amazon.com in both print and eBook formats at: https://www.amazon.com/Happy-Cinnamon-Silver-Linings-Storybook-ebook/dp/B01MZDLJX0
Photo Credit: Susie Soleimani Photography
Media Contact
Company Name: Social Sparkle & Shine
Contact Person: Debbie Horovitch
Email: debbie.horovitch@gmail.com
Phone: 4165532157
Country: Canada
Website: http://theSparkleAgency.com