Chuncheon, South Korea – Min-Hyeon Seung is excited to announce the success of his Indiegogo campaign to raise funds for CORKY, a rearview mirror optimized for biking that mounts perfectly to a drop bar. The campaign recently surpassed its $20,000 funding goal on the popular crowdfunding platform with two weeks left to go.
"The number of people who die in bicycle accidents every year is about 500,000 and 60% of bicycle accidents are rear-side accidents. Bike riders need a rearview mirror," the creator explains, "However, many riders do not mount rearview mirrors because of the cumbersome design of conventional rearview mirrors designed to prevent accidents. That's why we have designed the safest and sexiest rearview mirror in the world to solve these problems."
Designed by a winner of the Red Dot Award, one of the three major design awards in the world, CORKY is the perfect solution for safer biking. No more looking behind you to see what's coming. CORKY has 360-degree angle control and 40-meter visibility, so you always see what's behind you while riding. CORKY can be closed to protect the mirror from damage and is designed to provide as little air resistance as possible.
The team has done their research and designed a great product that solves a problem that many bikers have faced. Now they are turning to the crowdfunding community to help make CORKY a reality and make bike riding safer for people around the world. For this Indiegogo campaign, CORKY is available in five colors: red, white, blue, neon green, and gray.
"As college students who loved cycling, we thought long and hard about safety while riding a bicycle. After a rear-end collision riding a road bike, I began to study how to solve the safety problem I had noticed for years as part of a bicycle club," says CEO Min-Hyeon Seung, "That's when I decided to launch THEBEAM, a bicycle safety product brand that incorporates style, practicality, and sophisticated design."
In exchange for pledging to the project, backers can gain access to a variety of rewards including one CORKY for $32, 2 CORKYs for $64, and more. Backers can also pledge $150 for a set of 5 CORKYs or $1,800 for the Distributor Package with 100 sets, three bonus CORKYs in limited edition colors, and free shipping.
For more information, please visit the Indiegogo page here or contact the creator below.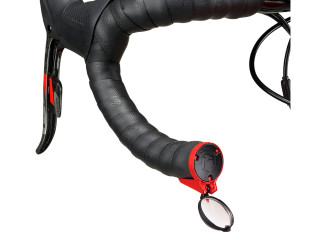 Media Contact
Company Name: CORKY
Contact Person: Media Relations
Email: eugene@thebeamkorea.com
Phone: +82 070 4312 7117
Country: South Korea
Website: https://www.indiegogo.com/projects/corky-for-safe-and-stylish-bike-riding-design#/