Atlanta Eco Cleaners was selected by Cleanify to gather a quote for the famous Swan building in Atlanta, GA.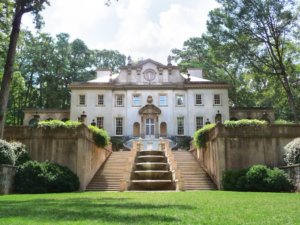 Atlanta residential and commercial cleaning company Atlanta Eco Cleaners were selected by Cleanify a national house cleaning directory brand to quote the famous Swan building in Atlanta for a cleaning quote on a bi-monthly basis.
Atlanta Eco Cleaners is a completely non-toxic cleaning service in Atlanta, GA who specialize in natural, eco-friendly cleaning services for both residential and commercial cleaning jobs. As a well-known cleaning company in Atlanta, they were selected by Cleanify to visit the magnificent Swan House and tour the home to be able to figure out just what it would cost to clean this type of luxury home on a regular basis.
Amanda Howe, owner of Atlanta Eco Cleaners admitted, "It was probably the nicest and biggest house I have ever been in! The decoration and attention to detail in all the finishing make it like something right out of a movie."
In fact, the Swan House has been used in many movies and television shows, most notably for The Hunger Games, the 1980's film Little Darlings, and the finish line of the 19th season of The Amazing Race.
Howe declared, "We decided to quote this home based on the square footage price we generally give to commercial cleaning quotes and post construction quotes only, which is between $0.05-$0.10 cents per square foot. We decided to go with the upper end of the pricing for the simple reasoning of details and caring for the almost 100-year-old decor. We estimated that the rate for this home would be $0.10 per square foot. At 15,000 square feet, the total would come to $1,500 for a cleaning of the whole home, excluding the glass on the windows and the patios."
Howe and Atlanta Eco Cleaners were happy to be chosen by Cleanify for this cleaning quote of Atlanta's famous Swan House. Amanda stated, "It is nice to be recognized as a top cleaning company by a huge brand such as Cleanify and to be chosen to do this quote is an honor."
Atlanta Eco Cleaners care about providing high-quality, eco-friendly cleaning services. Residents in the Atlanta area, can book them for residential or commercial cleaning services.
Visit their site here for more information: http://MaidCleaningServicesAtlanta.com
To view the full article from Cleanify, visit http://blog.cleanify.com/2017/04/07/house-cleaning-quote-for-swan-house-in-atlanta/
Media Contact
Company Name: ACE Marketing
Contact Person: Dawn McClure
Email: neil@theauthorotyarchitect.com
Phone: (404) 428-1399
Country: United States
Website: http://theauthorityarchitect.com