Achten's Quality Roofing of Tacoma, WA, has received GAF's 2017 President's Club Award. A GAF Master Elite(R) contractor since 2010, it is a family-owned company that installs and repairs thousands of roofs throughout western Washington.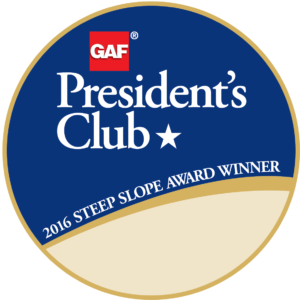 Tacoma, WA – May 16, 2017 –
Achten's Quality Roofing of Tacoma, Washington, has received the most prestigious contractor award GAF offers: The GAF President's Club Award. This highly coveted award recognizes Achten's Quality Roofing as one of the "elite of the elite" residential roofing contractors in the United States.
GAF is North America's largest roofing manufacturer, and only GAF Master Elite(R) Contractors can compete for its residential President's Club Award. To qualify for this award, a residential roofing contractor must demonstrate an exceptional level of excellence in their business, especially in the areas of Installation Excellence, Consumer Protection, and Installer Training.
Achten's Quality Roofing has been a GAF Master Elite(R) Contractor since 2010; the company received the President's Club Award due to its excellent performance in 2016. To become a Master Elite(R) Contractor–a status that less than 2% of roofing contractors nationwide are able to achieve–a candidate must meet specific criteria in at least one out of three different pathways: the Performance pathway, where contractors focus on giving their property owners the best possible service, quality, and protection; the Reliability pathway, where the contractor has a long history of offering their customers the best quality and protection; and the Service pathway, where contractors consistently offer their customers the best protection available in the marketplace.
An experienced and versatile contractor, Achten's Quality Roofing installs hundreds of roofs of all types every year. Highly trained and certified by major material suppliers, the company's technicians are able to install every type of roofing product according to manufacturers' specifications. Certification and product familiarity ensure that each customer receives an effective roofing system with a valid warranty.
The company installs and services a number of different types of roofing system, including asphalt/composite shingles and tile, wood shake, flat/low slope, metal, and slate roofing. Achten's Quality Roofing also provides services in gutters, insulation, masonry, siding, skylights, and sun tunnels. During times of severe weather or other roof trauma, the company will tarp off damaged roof areas within 24 hours and handle any emergency repairs. Achten's Quality Roofing also works with homeowners' insurance companies to quickly make the home safe, secure, and comfortable once again.
All of the company's installers are professional roofers who are field-book-tested. Achten's Quality Roofing does not use subcontractors; every technician is an employee, arriving at the job site in an Achten's truck, wearing an Achten's uniform, and with all the equipment needed to complete the project. After project completion, the company sends a quality-control professional to do a 25-point inspection, ensuring that the work meets or exceeds the customer's expectations and is in accord with local building codes.
Founder John Achten believes strongly in giving back, so the company is quite active in the community, sponsoring local charities and scholastic organizations and helping local families in need. Achten's Quality Roofing works with Habitat for Humanity and has sponsored or participated in the ALS Ice Bucket Challenge, the Tacoma Art Fest, Extreme Makeover Home Edition, several Adopt-a-Highway locations, and the Fantasy Lights holiday display. The company is a member of the National Roofing Contractors Association, the Master Builders, and the Building Industry Association of Washington. A GAF Certified Green Roofer(TM), Achten's Quality Roofing is accredited by the Better Business Bureau, holding an A+ rating, and has an A rating with Angie's List.
Achten's Quality Roofing has earned its customers' business, trust, and referrals with its assurance of working with a reputable, dependable contractor. The company is available seven days a week, 24 hours a day, to assist with all roofing needs. Homeowners who hire Achten's know that they are working with trained professionals who have set the standard as the best roofing contractor in Seattle and Tacoma.
About Achten's Quality Roofing
Achten's Quality Roofing is a family-owned company servicing all of western Washington. Each year, the company installs and repairs thousands of roofs. The goals at Achten's Quality Roofing are to provide quality roofs, with outstanding service and competitive prices, and to get the job done right and on time.
Achten's Quality Roofing
410 112th St. S
Tacoma, WA 98444
(253) 539-7663
http://www.achtensroofing.com
Facebook: https://www.facebook.com/achtens
Twitter: https://twitter.com/AchtensRoofing
YouTube channel: https://www.youtube.com/channel/UC7o6mDStVcglDkl26xBd1Jg
About GAF:
Founded in 1886, GAF is the largest roofing manufacturer in North America. The Company is an operating subsidiary of Standard Industries.
GAF products include a comprehensive portfolio of roofing systems for residential and commercial properties, which are supported by an extensive national network of factory-certified contractors. Its success is driven by its commitment to Advanced Quality, Industry Expertise, and Solutions Made Simple. GAF was the first roofing manufacturer to offer a Lifetime limited warranty on all of its laminated shingles, which then evolved with the introduction of the GAF Lifetime Roofing System by extending the Lifetime coverage beyond just the roofing shingles.
With a focus on social responsibility, GAF developed Advanced Protection(R) Shingle Technology, providing excellent durability and wind resistance while reducing the use of natural resources. The Company has also developed single-ply and asphaltic roofing membranes with excellent durability and high reflectivity to meet the most rigorous industry standards while helping commercial property owners and designers reduce energy consumption.
GAF also supports the roofing industry through CARE, the Center for the Advancement of Roofing Excellence(TM), which has provided education to over 230,000 professionals. CARE's mission is to help professional contractors and distributors build their businesses through sales and management education, and to provide product and installation training to contractors, distributors, architects, property owners, and related industry personnel.
For more information about GAF, visit: gaf.com
About Standard Industries:
Standard Industries is a privately-held, global, diversified holding company with interests in building materials, aggregates, and related investment businesses in public equities and real estate. With over 7,500 employees and operations in more than 80 countries, Standard maintains a team-oriented culture of meritocracy and operational excellence, and a passionate focus on investing in its people.
Media Contact
Company Name: Achten's Quality Roofing
Contact Person: John Achten
Email: info@achtensroofing.com
Phone: (253) 539-7663
Country: United States
Website: http://www.achtensroofing.com