Earl W. Johnston Roofing of Hollywood, FL, has received GAF's 2017 President's Club Award. A GAF Master Elite(R) contractor since 1998, it is dedicated to providing the finest roofing services and materials to its South Florida customers.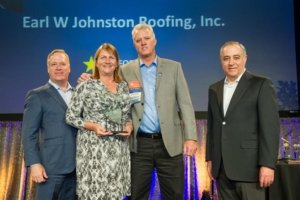 Hollywood, FL – May 17, 2017 –
Earl W. Johnston Roofing, LLC of Hollywood, Florida, has received the most prestigious contractor award GAF offers: The GAF President's Club Award. This highly coveted award recognizes Earl W. Johnston Roofing as one of the "elite of the elite" residential roofing contractors in the United States.
GAF is North America's largest roofing manufacturer, and only GAF Master Elite(R) Contractors can compete for its residential President's Club Award. To qualify for this award, a residential roofing contractor must demonstrate an exceptional level of excellence in their business, especially in the areas of Installation Excellence, Consumer Protection, and Installer Training.
Earl W. Johnston Roofing has been a GAF Master Elite(R) Contractor since 1998; the company received the President's Club Award due to its excellent performance in 2016. To become a Master Elite(R) Contractor–a status that less than 2% of roofing contractors nationwide are able to achieve–a candidate must meet specific criteria in at least one out of three different pathways: the Performance pathway, where contractors focus on giving their property owners the best possible service, quality, and protection; the Reliability pathway, where the contractor has a long history of offering their customers the best quality and protection; and the Service pathway, where contractors consistently offer their customers the best protection available in the marketplace.
Many commercial roofing clients are surprised to learn that more than 40% of damaged or deteriorated flat and low-slope roofs can be restored instead of replaced, according to owners Earl and Lynne Johnston. "They can save boatloads of money. And in the case of roofs that do require replacement, the clients benefit from iron-clad manufacturer warranties that last more than 20 years."
In business for nearly three decades, Earl W. Johnston Roofing knows how to make the correct call on roof repairs and replacements for both residences and commercial buildings. The company handles installation, maintenance, and repair of all residential roofing systems, including tile, wood, metal, asphalt, and composite types; it also offers services for regular maintenance and cleaning to increase roof longevity. On the commercial side, the company works on pitched or flat roofs and metal roofs, as well as servicing the ventilation, air conditioning, and other essential systems connected to a commercial roof.
As a family-owned business, Earl W. Johnston Roofing is closely connected with the communities that it serves. The company participates in No Roof Left Behind(TM), a program that assists families in need to obtain critical roofing services. However, it has gone beyond that. In cooperation with several other roofing contractors and civic organizations, the company helped replace the roof and rehab the home of an injured elderly man who was not the winner of the No Roof Left Behind nomination, but whose home had suffered badly from hurricane damage and was still in need of major repairs 10 years after the storm.
Earl W. Johnston Roofing operates according to OSHA standards and is a member of the Roofing Contractors Association of South Florida and the National Roofing Contractors Association. It is accredited by the Better Business Bureau, certified by Gaco Western and Roof-A-Cide(R), and a recipient of the BBB's Business Ethics Award and the Angie's List Super Service Award.
Offering frequent promotional deals to customers, the company continues to deliver reliable, dependable service. "Any vulnerability or flaw in a roof puts the entire home at risk," conclude the Johnstons. "From the very beginning, we have put our customers first. We are dedicated to continuing that tradition and offering our clients the most dependable team of roofers that Broward County can offer."
About Earl W. Johnston Roofing
Family owned and operated, the company was founded in 1986 by Earl W. Johnston, a trade roofer who wanted to start his own business to support his family. Dedicated to providing the finest roofing services and materials to customers in the South Florida area, Earl still operates the company 30 years later, with his wife, Lynne, other family members, and loyal staff. The company continues to operate under the same commitments to customer service and quality workmanship.
Earl W. Johnston Roofing, LLC
5721 Dewey Street
Hollywood, FL 33023
(954) 989-7794
Toll-free: (800) 940-5325
http://www.johnstonroofing.com
Facebook: https://www.facebook.com/johnstonroofing
Twitter: https://twitter.com/JohnstonRoofing
LinkedIn: https://www.linkedin.com/company/4656102
YouTube channel: https://www.youtube.com/user/EWJRoofing
About GAF:
Founded in 1886, GAF is the largest roofing manufacturer in North America. The Company is an operating subsidiary of Standard Industries.
GAF products include a comprehensive portfolio of roofing systems for residential and commercial properties, which are supported by an extensive national network of factory-certified contractors. Its success is driven by its commitment to Advanced Quality, Industry Expertise, and Solutions Made Simple. GAF was the first roofing manufacturer to offer a Lifetime limited warranty on all of its laminated shingles, which then evolved with the introduction of the GAF Lifetime Roofing System by extending the Lifetime coverage beyond just the roofing shingles.
With a focus on social responsibility, GAF developed Advanced Protection(R) Shingle Technology, providing excellent durability and wind resistance while reducing the use of natural resources. The Company has also developed single-ply and asphaltic roofing membranes with excellent durability and high reflectivity to meet the most rigorous industry standards while helping commercial property owners and designers reduce energy consumption.
GAF also supports the roofing industry through CARE, the Center for the Advancement of Roofing Excellence(TM), which has provided education to over 230,000 professionals. CARE's mission is to help professional contractors and distributors build their businesses through sales and management education, and to provide product and installation training to contractors, distributors, architects, property owners, and related industry personnel.
For more information about GAF, visit: gaf.com
About Standard Industries:
Standard Industries is a privately-held, global, diversified holding company with interests in building materials, aggregates, and related investment businesses in public equities and real estate. With over 7,500 employees and operations in more than 80 countries, Standard maintains a team-oriented culture of meritocracy and operational excellence, and a passionate focus on investing in its people.
Media Contact
Company Name: Earl W. Johnston Roofing, LLC
Contact Person: Lynne Johnston
Email: lynne@johnstonroofing.com
Phone: (954) 989-7794
Address:5721 Dewey Street
City: Hollywood
State: FL
Country: United States
Website: http://www.johnstonroofing.com