DaBella Exteriors of Portland, OR, has received GAF's 2017 President's Club Award. A GAF Master Elite(R) contractor since 2011, it provides top-notch roofing and solar systems, replacement windows, siding, bathtubs, showers, and gutters.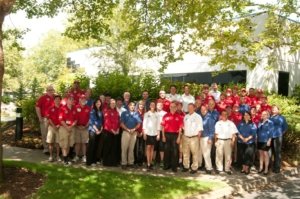 Portland, OR – May 17, 2017 –
DaBella Exteriors of Portland, Oregon, has received the most prestigious contractor award GAF offers: The GAF President's Club Award. This highly coveted award recognizes DaBella Exteriors as one of the "elite of the elite" residential roofing contractors in the United States.
GAF is North America's largest roofing manufacturer, and only GAF Master Elite(R) Contractors can compete for its residential President's Club Award. To qualify for this award, a residential roofing contractor must demonstrate an exceptional level of excellence in their business, especially in the areas of Installation Excellence, Consumer Protection, and Installer Training.
DaBella Exteriors has been a GAF Master Elite(R) Contractor since 2011; the company received the President's Club Award due to its excellent performance in 2016. To become a Master Elite(R) Contractor–a status that less than 2% of roofing contractors nationwide are able to achieve–a candidate must meet specific criteria in at least one out of three different pathways: the Performance pathway, where contractors focus on giving their property owners the best possible service, quality, and protection; the Reliability pathway, where the contractor has a long history of offering their customers the best quality and protection; and the Service pathway, where contractors consistently offer their customers the best protection available in the marketplace.
Started only several years ago under difficult family circumstances, DaBella Exteriors has quickly grown into one of Portland's largest home-improvement companies. "People are hungry for a company that does the highest quality work and lives extraordinary values," according to president and founder Nissa McMillan. "We sleep better at night knowing that we're delivering for our customers the best possible home improvements and service and we understand the importance of job creation and opportunity for our employees which is why we continue to grow."
The company's relationships with customers sets it apart from its competitors. "We have passion for our work and every customer gets the highest warranty available," continues McMillan. "We build things to last, with American made, eco-friendly quality material and a high level of craftsmanship. We treat customers like family and their homes like our own homes. And we always tell the truth about everything, from scheduling to costs to warranties."
Cultivating a good relationship with every customer, DaBella offers superior roofing systems, replacement windows, vinyl siding, bathtubs, shower enclosures, gutters, solar panels, and other home improvements. "We partner with the best manufacturers, such as GAF, and we hold our installation technicians to a set of stringent best-practice standards by having them trained by the manufacturer of the product," says McMillan. "Our customers expect service from professional craftsmen who are dedicated to delivering exceptional workmanship, and they want to protect their investments for many years to come."
DaBella's commitment to excellence is mirrored by a commitment to community involvement. The company actively supports the Oregon Food Bank and the Salvation Army's Adopt-a-Family program; it also works on local Habitat for Humanity projects and is a member of the Beaverton Chamber of Commerce. In addition to its Master Elite(R) designation, DaBella is a GAF Certified Green Roofer(TM), and it installed the most Golden Pledge roofs in the United States in 2013 and 2014. It is a multiyear recipient of both the GuildMaster Award for Exceptional Customer Service and the Alside Award of Excellence, and it maintains an A+ accreditation with the Better Business Bureau.
As word-of-mouth continues to spread from satisfied homeowners, the company has no plans to slow down. "We've earned our reputation for quality work. Our customers love us so much that we've received over a thousand customer reviews online. It is our duty to do and be the best," concludes McMillan, "and the results are gratifying. Nothing is more important to us than pleasing our customers. Many new projects come directly from recommendations and referrals. We are thrilled that our work family is able to help even more families to make their homes more comfortable, more energy-efficient, and more attractive. But we never forget that our reputation depends entirely on doing our best work on the next project."
About DaBella Exteriors
DaBella Exteriors was founded on the conviction that every customer should be treated like family and deserves a beautiful, long-lasting, home-improvement solution. The company's goal is to satisfy all home renovation needs with top-notch roofing systems, replacement windows, siding, bathtubs, showers, gutters, and solar systems. DaBella is primarily built around "The DaBella Difference(R)": providing the best products, the longest-lasting warranties, and great customer and employee service. Using only factory-trained installers and being woman-owned has given the company a unique way of doing things and doing them right the first time. DaBella aims to be a one-stop shop for all home-improvement needs–guaranteeing that customers will be delighted with "The DaBella Difference(R)."
DaBella Exteriors LLC
10300 SW Nimbus Ave, Suite # P-B
Portland, OR 97223
(503) 541-7676
http://www.dabellaexteriorsllc.com
Facebook: https://www.facebook.com/dabellaexteriorsllc
Twitter: https://twitter.com/dabellaexter
LinkedIn: https://www.linkedin.com/company/dabella-exteriors-llc?trk=top_nav_home
YouTube channel: https://www.youtube.com/channel/UCqbOoaWa05YIOotoYgMaXPw
About GAF:
Founded in 1886, GAF is the largest roofing manufacturer in North America. The Company is an operating subsidiary of Standard Industries.
GAF products include a comprehensive portfolio of roofing systems for residential and commercial properties, which are supported by an extensive national network of factory-certified contractors. Its success is driven by its commitment to Advanced Quality, Industry Expertise, and Solutions Made Simple. GAF was the first roofing manufacturer to offer a Lifetime limited warranty on all of its laminated shingles, which then evolved with the introduction of the GAF Lifetime Roofing System by extending the Lifetime coverage beyond just the roofing shingles.
With a focus on social responsibility, GAF developed Advanced Protection(R) Shingle Technology, providing excellent durability and wind resistance while reducing the use of natural resources. The Company has also developed single-ply and asphaltic roofing membranes with excellent durability and high reflectivity to meet the most rigorous industry standards while helping commercial property owners and designers reduce energy consumption.
GAF also supports the roofing industry through CARE, the Center for the Advancement of Roofing Excellence(TM), which has provided education to over 230,000 professionals. CARE's mission is to help professional contractors and distributors build their businesses through sales and management education, and to provide product and installation training to contractors, distributors, architects, property owners, and related industry personnel.
For more information about GAF, visit: gaf.com
About Standard Industries:
Standard Industries is a privately-held, global, diversified holding company with interests in building materials, aggregates, and related investment businesses in public equities and real estate. With over 7,500 employees and operations in more than 80 countries, Standard maintains a team-oriented culture of meritocracy and operational excellence, and a passionate focus on investing in its people.
Media Contact
Company Name: DaBella Exteriors LLC
Contact Person: Nissa McMillan
Email: invoicing@dabellaexteriorsllc.com
Phone: (503) 541-7676
Country: United States
Website: http://www.dabellaexteriorsllc.com