C&C Family Roofing & Siding of Willow Grove, PA, has received GAF's 2017 President's Club Award. A GAF Master Elite(R) contractor since 2004, it offers competitive pricing and delivers all phases of roofing in a professional manner.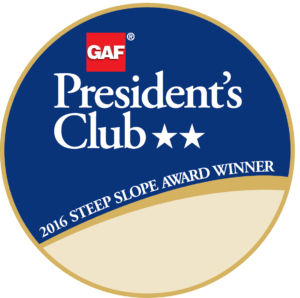 Willow Grove, PA – May 17, 2017 –
C&C Family Roofing & Siding of Willow Grove, Pennsylvania, has received the most prestigious contractor award GAF offers: The GAF President's Club Award. This highly coveted award recognizes C&C Family Roofing & Siding as one of the "elite of the elite" residential roofing contractors in the United States.
GAF is North America's largest roofing manufacturer, and only GAF Master Elite(R) Contractors can compete for its residential President's Club Award. To qualify for this award, a residential roofing contractor must demonstrate an exceptional level of excellence in their business, especially in the areas of Installation Excellence, Consumer Protection, and Installer Training.
C&C Family Roofing & Siding has been a GAF Master Elite(R) Contractor since 2004; the company received the President's Club Award due to its excellent performance in 2016. To become a Master Elite(R) Contractor–a status that less than 2% of roofing contractors nationwide are able to achieve–a candidate must meet specific criteria in at least one out of three different pathways: the Performance pathway, where contractors focus on giving their property owners the best possible service, quality, and protection; the Reliability pathway, where the contractor has a long history of offering their customers the best quality and protection; and the Service pathway, where contractors consistently offer their customers the best protection available in the marketplace.
C&C Family Roofing and Siding gives prospective clients some positive advice for selecting a roofing contractor. "First, find a company that has been in business for at least 20 years," advises president Gary Selleck. "The business should be family owned and operated, with fair prices that are neither too cheap nor too costly. Last, the contractor should offer you a free estimate and inspection. These tips have come from our customers themselves, over the years."
The company works with major materials manufacturers to bring the best in roofing, siding, window, door, and gutter services. With special offers for homeowners' projects, C&C Family Roofing and Siding provides great value to its customers. "We're well-versed in industry standard practices," says Selleck, "and we continuously demonstrate a high level of customer service by maintaining a minimum homeowner satisfaction rating of 90% or above. Our certified contractors have passed a lengthy exam, based upon Asphalt Roofing Manufacturers Association specifications and accepted application techniques." C&C has won multiple "Best of" awards from local media, is a recipient of the Angie's List Super Service Award, and holds an A+ accreditation with the Better Business Bureau.
The company has achieved success by following these simple guidelines for superior service. "You need to hire a company that really puts you first, so that you know that each worker will take the job seriously and strive to do his or her best, from beginning to end," says Selleck. "We've spent enough time working in this industry that we know exactly how to make the decision process easier for homeowners. That's what makes us the best roofing contractor in Pennsylvania."
About C&C Family Roofing & Siding
Delivering all phases of roofing in a professional manner, C&C Family Roofing & Siding offers competitive pricing and thorough cleanup in a timely manner. With referrals forming 80% of its business, the company services its customers with honest estimates and quality workmanship.
C&C Family Roofing & Siding
533 Davisville Rd.
Willow Grove, PA 19090
(215) 322-8687
Toll-free: (866) ROOF-USA
http://candcfamilyroofing.com
Facebook: https://www.facebook.com/candcfamilyroofing
YouTube video: https://www.youtube.com/watch?v=QdZSSJgoBQQ
About GAF:
Founded in 1886, GAF is the largest roofing manufacturer in North America. The Company is an operating subsidiary of Standard Industries.
GAF products include a comprehensive portfolio of roofing systems for residential and commercial properties, which are supported by an extensive national network of factory-certified contractors. Its success is driven by its commitment to Advanced Quality, Industry Expertise, and Solutions Made Simple. GAF was the first roofing manufacturer to offer a Lifetime limited warranty on all of its laminated shingles, which then evolved with the introduction of the GAF Lifetime Roofing System by extending the Lifetime coverage beyond just the roofing shingles.
With a focus on social responsibility, GAF developed Advanced Protection(R) Shingle Technology, providing excellent durability and wind resistance while reducing the use of natural resources. The Company has also developed single-ply and asphaltic roofing membranes with excellent durability and high reflectivity to meet the most rigorous industry standards while helping commercial property owners and designers reduce energy consumption.
GAF also supports the roofing industry through CARE, the Center for the Advancement of Roofing Excellence(TM), which has provided education to over 230,000 professionals. CARE's mission is to help professional contractors and distributors build their businesses through sales and management education, and to provide product and installation training to contractors, distributors, architects, property owners, and related industry personnel.
For more information about GAF, visit: gaf.com
About Standard Industries:
Standard Industries is a privately-held, global, diversified holding company with interests in building materials, aggregates, and related investment businesses in public equities and real estate. With over 7,500 employees and operations in more than 80 countries, Standard maintains a team-oriented culture of meritocracy and operational excellence, and a passionate focus on investing in its people.
Media Contact
Company Name: C&C Family Roofing & Siding
Contact Person: Gary Selick
Email: regina@candcfamilyroofing.com
Phone: (215) 322-8687
Address:533 Davisville Rd.
City: Willow Grove
State: PA
Country: United States
Website: http://candcfamilyroofing.com