BNW Builders of Richmond, Virginia, has received GAF's 2017 President's Club Award. A GAF Master Elite(R) contractor since 2007, BNW has quickly grown into one of the top full-service remodeling companies in the United States.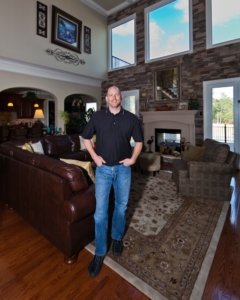 Richmond, VA – May 17, 2017 –
BNW Builders of Richmond, Virginia, has received the most prestigious contractor award GAF offers: The GAF President's Club Award. This highly coveted award recognizes BNW Builders as one of the "elite of the elite" residential roofing contractors in the United States.
GAF is North America's largest roofing manufacturer, and only GAF Master Elite(R) Contractors can compete for its residential President's Club Award. To qualify for this award, a residential roofing contractor must demonstrate an exceptional level of excellence in their business, especially in the areas of Installation Excellence, Consumer Protection, and Installer Training.
BNW Builders has been a GAF Master Elite(R) Contractor since 2007; the company received the President's Club Award due to its excellent performance in 2016. To become a Master Elite(R) Contractor–a status that less than 2% of roofing contractors nationwide are able to achieve–a candidate must meet specific criteria in at least one out of three different pathways: the Performance pathway, where contractors focus on giving their property owners the best possible service, quality, and protection; the Reliability pathway, where the contractor has a long history of offering their customers the best quality and protection; and the Service pathway, where contractors consistently offer their customers the best protection available in the marketplace.
As might be expected, a contractor named BNW Builders does more than just roofs. According to owner Bruce Wiegan, that's not the only way the company stands out from competitors. "We do things totally different than most companies do. When it comes to roofing, many contractors have what we call the 'price first, quality second' mentality. We don't cut corners; we use the finest materials. That's important to the homeowner. If you're replacing a window or putting up siding–if the customer wishes, he can watch you work. But nobody's going to sit on a roof to observe. We give the customer a thorough presentation–not only to explain the parts and materials we use but why we use them."
Gaining–and keeping–customers' trust is important at BNW Builders. "People know who we are and that we care about the work," says Wiegan. "I've got 200 full-length homeowner testimonials. In our customer address book, you'll see numbers–two, three, as high as seven–next to names; that's the number of times we were asked back to work on different projects. When people see us in their neighborhoods again and again at different houses, they know that we're doing something right."
"We do what's best for the homeowner," Wiegan asserts. "We don't show anything less than what a Golden Pledge warranty would entail and go through the entire system, for their protection and also for ours. We plan to be here a long time, so we use best practices and top products and partner with GAF, the finest shingle distributor out there. We're confident in what we offer."
To Wiegan, assisting people is a critical part of the company's mission. "In 2007, we started our 'Building Needs and Wishes' program. If someone in the community is aware of people who need help, can't help themselves, are having financial difficulties … I ask them to contact me. We do what we can to give back to the community that's been so supportive of us for 25 years. The Lord's got a hand in everything we do; we feel called to help people."
In addition to BNW's in-house program, it works with Habitat for Humanity. "Doing the free roofs for Habitat is fun; I love it," states Wiegan. "We love meeting people and helping people."
"It boils down to who we are, as corny as that sounds," concludes Wiegan. "Doing a substandard job is not in the homeowner's interest and it's not in our best interest, because our name goes on it. We're here to help and to serve–that's our tagline: 'let us serve you.' I hope that doesn't make us sound like a restaurant! But it's a big part of people understanding who we are. And if it ain't broke, don't fix it!"
About BNW Builders
Started in 2004, BNW Builders has grown into one of the top full-service remodeling companies in the United States. For four consecutive years, the company was recognized by Remodeling magazine as a top remodeler; for six consecutive years, it earned the GAF Triple Excellence Award. In May 2013, BNW Builders was inducted into Remodeling's "Big 50."
BNW Builders
8601 Staples Mill Road
Richmond, VA 23228
(804) 346-3300
http://www.bnwbuilders.com
Facebook: http://www.facebook.com/BNWBuilders
Twitter: http://twitter.com/bnwbuilders
LinkedIn: http://www.linkedin.com/in/brucewiegan
YouTube channel: https://www.youtube.com/channel/UCe6cx_mdTlymhNyo5qoGQOQ
About GAF:
Founded in 1886, GAF is the largest roofing manufacturer in North America. The Company is an operating subsidiary of Standard Industries.
GAF products include a comprehensive portfolio of roofing systems for residential and commercial properties, which are supported by an extensive national network of factory-certified contractors. Its success is driven by its commitment to Advanced Quality, Industry Expertise, and Solutions Made Simple. GAF was the first roofing manufacturer to offer a Lifetime limited warranty on all of its laminated shingles, which then evolved with the introduction of the GAF Lifetime Roofing System by extending the Lifetime coverage beyond just the roofing shingles.
With a focus on social responsibility, GAF developed Advanced Protection(R) Shingle Technology, providing excellent durability and wind resistance while reducing the use of natural resources. The Company has also developed single-ply and asphaltic roofing membranes with excellent durability and high reflectivity to meet the most rigorous industry standards while helping commercial property owners and designers reduce energy consumption.
GAF also supports the roofing industry through CARE, the Center for the Advancement of Roofing Excellence(TM), which has provided education to over 230,000 professionals. CARE's mission is to help professional contractors and distributors build their businesses through sales and management education, and to provide product and installation training to contractors, distributors, architects, property owners, and related industry personnel.
For more information about GAF, visit: gaf.com
About Standard Industries:
Standard Industries is a privately-held, global, diversified holding company with interests in building materials, aggregates, and related investment businesses in public equities and real estate. With over 7,500 employees and operations in more than 80 countries, Standard maintains a team-oriented culture of meritocracy and operational excellence, and a passionate focus on investing in its people.
Media Contact
Company Name: BNW Builders
Contact Person: Bruce Wiegan
Email: bruce@bnwbuilders.com
Phone: (804) 346-3300
Address:8601 Staples Mill Road
City: Richmond
State: VA
Country: United States
Website: http://www.bnwbuilders.com