Adam Quenneville Roofing of South Hadley, MA, has received GAF's 2017 President's Club Award. A GAF Master Elite(R) contractor since 2003, the company is a full-service roofing business that has expanded to serve all of New England.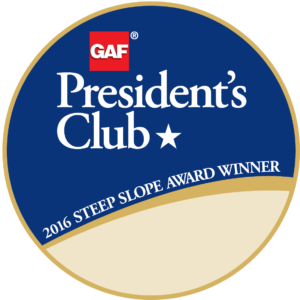 South Hadley, MA – May 22, 2017 –
Adam Quenneville Roofing, Siding, & Windows of South Hadley, Massachusetts, has received the most prestigious contractor award GAF offers: The GAF President's Club Award. This highly coveted award recognizes Adam Quenneville Roofing, Siding, & Windows as one of the "elite of the elite" residential roofing contractors in the United States.
GAF is North America's largest roofing manufacturer, and only GAF Master Elite(R) Contractors can compete for its residential President's Club Award. To qualify for this award, a residential roofing contractor must meet specific criteria in at least one out of three different pathways: the Performance pathway, where contractors focus on giving their property owners the best possible service, quality, and protection; the Reliability pathway, where the contractor has a long history of offering their customers the best quality and protection; and the Service pathway, where contractors consistently offer their customers the best protection available in the marketplace.
Adam Quenneville Roofing, Siding, & Windows has been a GAF Master Elite(R) Contractor since 2003; the company received the President's Club Award due to its excellent performance in 2016. To become a Master Elite(R) Contractor–a status that less than 2% of roofing contractors nationwide are able to achieve–a candidate must demonstrate proper licensing, maintain insurance (in states that require it), have a proven reputation, and show commitment to ongoing professional training.
Many roofing contractors perform siding and window installations as supplementary parts of the business. Adam Quenneville Roofing provides all of those services but takes it a step further; the company is also a Roof Shampoo(R) franchise contractor. "We clean roofs that don't need to be replaced," explains owner Adam Quenneville. "We clean black algae and moss off roofs that are still in good shape, and it extends the life of the roof. Homeowners get excited when they learn that they don't need new roofs and that we can just clean it for a fraction of that cost. Other roofing contractors will try to sell a new roof, but we do the right thing. Often, those same homeowners become new customers down the road, when they actually do need a new roof."
"We don't just sell roofs. We put on roofing systems," states Quenneville. "We evaluate attics to ensure proper ventilation and insulation; we install siding and windows; we do commercial flat roofing with a spray-down, liquid-applied system. All of these factors tie into the performance and life of a roofing system, and they can save homeowners and business owners a lot of money. We have a lowest-price guarantee for our roofing systems, and we give warranties that other companies can't. That makes us different."
Local customers are accustomed to the company's presence. "We do a lot of advertising," explains Quenneville. "People hear our ads on the radio, see us on TV, and see our vehicles all over town." But advertising is not the only way that people know about Adam Quenneville Roofing. "Look us up on the Better Business Bureau. We maintain the highest A+ rating, and we've been nominated for the BBB's Torch Award. We won in 2010; in 2015, we were one of nine finalists from about 15,000 companies in Massachusetts and Connecticut. We're proud of that. Everybody's heard of the BBB, and when potential customers see that symbol associated with our business, they want to put their confidence in us."
"Our goal is 100% customer satisfaction," continues Quenneville. "If I make every customer feel that way, my team has done its job."
"This company is a team effort," concludes Quenneville. "We don't have staff coming and going, and everybody works with each other. At the end of the day, it's my people that make the company. We have 20 years in service and more than 10,000 satisfied customers as proof."
About Adam Quenneville Roofing, Siding, & Windows
Starting 20 years ago in South Hadley, Massachusetts, Adam Quenneville Roofing has expanded to serve all of New England. A full-service roofing business, the company's services include siding, windows, gutters, ice dam resolution, and radiant barriers, with a division specializing in storm damage. It is the only roofing company with an in-house insurance department and licensed insurance specialist.
Adam Quenneville Roofing, Siding, & Windows
160 Old Lyman Road
South Hadley, MA 01075
(413) 536-5955
Toll-free (800) 639-7663
http://www.1800newroof.net
Facebook: https://www.facebook.com/1800newroof
LinkedIn: https://www.linkedin.com/company/adam-quenneville-roofing-siding-&-windows
YouTube channel: https://www.youtube.com/channel/UCu-c_NZIbHxKpZloXXjOigA
About GAF:
Founded in 1886, GAF is the largest roofing manufacturer in North America. The Company is an operating subsidiary of Standard Industries.
GAF products include a comprehensive portfolio of roofing systems for residential and commercial properties, which are supported by an extensive national network of factory-certified contractors. Its success is driven by its commitment to Advanced Quality, Industry Expertise, and Solutions Made Simple. GAF was the first roofing manufacturer to offer a Lifetime limited warranty on all of its laminated shingles, which then evolved with the introduction of the GAF Lifetime Roofing System by extending the Lifetime coverage beyond just the roofing shingles.
With a focus on social responsibility, GAF developed Advanced Protection(R) Shingle Technology, providing excellent durability and wind resistance while reducing the use of natural resources. The Company has also developed single-ply and asphaltic roofing membranes with excellent durability and high reflectivity to meet the most rigorous industry standards while helping commercial property owners and designers reduce energy consumption.
GAF also supports the roofing industry through CARE, the Center for the Advancement of Roofing Excellence(TM), which has provided education to over 230,000 professionals. CARE's mission is to help professional contractors and distributors build their businesses through sales and management education, and to provide product and installation training to contractors, distributors, architects, property owners, and related industry personnel.
For more information about GAF, visit: gaf.com
About Standard Industries:
Standard Industries is a privately-held, global, diversified holding company with interests in building materials, aggregates, and related investment businesses in public equities and real estate. With over 7,500 employees and operations in more than 80 countries, Standard maintains a team-oriented culture of meritocracy and operational excellence, and a passionate focus on investing in its people.
Media Contact
Company Name: Adam Quenneville Roofing, Siding, & Windows
Contact Person: John Roberts
Email: maryb.aqrs@gmail.com
Phone: (413) 536-5955
Address:160 Old Lyman Road
City: South Hadley
State: MA
Country: United States
Website: http://www.1800newroof.net