A-Top Roofing and Construction of Manalapan, New Jersey, has received GAF's 2017 President's Club Award. A GAF Master Elite(R) contractor since 2004, A-Top has 30 years' experience in the construction and roofing industries.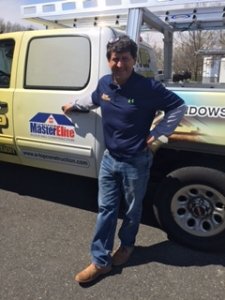 Manalapan, NJ – May 22, 2017 –
A-Top Roofing and Construction of Manalapan, New Jersey, has received the most prestigious contractor award GAF offers: The GAF President's Club Award. This highly coveted award recognizes A-Top Roofing as one of the "elite of the elite" residential roofing contractors in the United States.
GAF is North America's largest roofing manufacturer, and only GAF Master Elite(R) Contractors can compete for its residential President's Club Award. To qualify for this award, a residential roofing contractor must meet specific criteria in at least one out of three different pathways: the Performance pathway, where contractors focus on giving their property owners the best possible service, quality, and protection; the Reliability pathway, where the contractor has a long history of offering their customers the best quality and protection; and the Service pathway, where contractors consistently offer their customers the best protection available in the marketplace.
A-Top Roofing has been a GAF Master Elite(R) Contractor since 2004; the company received the President's Club Award due to its excellent performance in 2016. To become a Master Elite(R) Contractor–a status that less than 2% of roofing contractors nationwide are able to achieve–a candidate must demonstrate proper licensing, maintain insurance (in states that require it), have a proven reputation, and show commitment to ongoing professional training.
Day in and day out, A-Top Roofing is one of the most reliable companies in the region, according to owner Andrew Ferrara. "Being in business for three decades, with the reliable and outstanding reputation that we've built, sets us apart. We're more than just roofing–we do all types of home improvement: siding, windows, doors, interior alterations, attic insulation, and mold and mildew remediation."
"We bring some of the most talented, educated people in the industry," states Ferrara. "We're constantly updating and educating employees, keeping up to speed on different types of programs. We don't have a lot of salesmen, so we bring a lot of personal insight–we instill this in our people, and it reflects back on the job site. So our attitude trickles all the way down to the homeowner."
Personal service is the number-one consideration for this family-run business. "We bring a tremendous amount of knowledge to the table, and we're great listeners," explains Ferrara. "We offer a lot of input regarding the right way and the wrong way to go about a project. The Internet has taught everyone that there's always a cheaper price somewhere, and we're in a world where people have become conditioned to use technology in this way to make their decisions. Home improvement doesn't work that way. We educate people to keep the personal touch–not to use technology to the point where we become disconnected or detached from filling the customer's needs."
Great service is reflected in A-Top's continued recognition by the Better Business Bureau, which has awarded the company an A rating. "Our company has had zero complaints–ever," states Ferrara. "So we're pleased with our involvement with the BBB. We've been part of Angie's List for about the last eight years, as well. Of course, the GAF President's Club Award is huge, and we set out in 2013 with the goal to achieve that in 2014 and keep repeating it each year–and we've done that!"
A-Top's level of commitment extends to the community. The company is involved with Habitat for Humanity and contributes to local Little Leagues and fundraising for local high school sports teams. "We're always big sponsors in trying to help out," says Ferrara.
Going forward, A-Top will continue focusing on satisfying customers and moving ahead with green initiatives. The company is trying to become more paperless and to offer building and insulation products that meet green standards.
"At A-Top, we focus on quality instead of quantity. If you're looking for quality with a very fair price, it's definitely us. When employees go to a customer's home and do things the right way–well, that's the big advantage of using a company like ours."
About A-Top Roofing and Construction
Formed in 1986, A-Top has 30 years' experience in the construction and roofing industries. The company has earned its outstanding reputation through the tens of thousands of jobs in and around the Monmouth County area. A-Top Construction covers many types of renovations, including residential and commercial projects.
A-Top Roofing and Construction
77 Pension Road, Suites 1 & 2
Manalapan, NJ 07726
(732) 446-6341
http://www.a-topconstruction.com
Facebook: http://www.facebook.com/atoproofingandconstruction
About GAF:
Founded in 1886, GAF is the largest roofing manufacturer in North America. The Company is an operating subsidiary of Standard Industries.
GAF products include a comprehensive portfolio of roofing systems for residential and commercial properties, which are supported by an extensive national network of factory-certified contractors. Its success is driven by its commitment to Advanced Quality, Industry Expertise, and Solutions Made Simple. GAF was the first roofing manufacturer to offer a Lifetime limited warranty on all of its laminated shingles, which then evolved with the introduction of the GAF Lifetime Roofing System by extending the Lifetime coverage beyond just the roofing shingles.
With a focus on social responsibility, GAF developed Advanced Protection(R) Shingle Technology, providing excellent durability and wind resistance while reducing the use of natural resources. The Company has also developed single-ply and asphaltic roofing membranes with excellent durability and high reflectivity to meet the most rigorous industry standards while helping commercial property owners and designers reduce energy consumption.
GAF also supports the roofing industry through CARE, the Center for the Advancement of Roofing Excellence(TM), which has provided education to over 230,000 professionals. CARE's mission is to help professional contractors and distributors build their businesses through sales and management education, and to provide product and installation training to contractors, distributors, architects, property owners, and related industry personnel.
For more information about GAF, visit: gaf.com
About Standard Industries:
Standard Industries is a privately-held, global, diversified holding company with interests in building materials, aggregates, and related investment businesses in public equities and real estate. With over 7,500 employees and operations in more than 80 countries, Standard maintains a team-oriented culture of meritocracy and operational excellence, and a passionate focus on investing in its people.
Media Contact
Company Name: A-Top Roofing and Construction
Contact Person: Andy Ferrara
Email: andrew@a-topnj.com
Phone: (732) 446-6341
Address:77 Pension Road, Suites 1 & 2
City: Manalapan
State: NJ
Country: United States
Website: http://www.a-topconstruction.com