MGS Construction of Derry, NH, has received GAF's 2017 President's Club Award. A GAF Master Elite(R) contractor since 2012, it has focused on all phases of quality residential and commercial roofing services since 1998.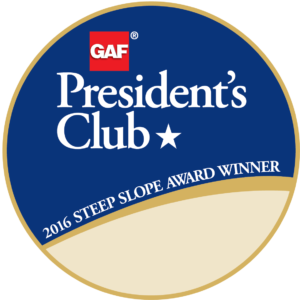 Derry, NH – May 23, 2017 –
MGS Construction LLC of Derry, New Hampshire, has received the most prestigious contractor award GAF offers: The GAF President's Club Award. This highly coveted award recognizes MGS Construction as one of the "elite of the elite" residential roofing contractors in the United States.
GAF is North America's largest roofing manufacturer, and only GAF Master Elite(R) Contractors can compete for its residential President's Club Award. To qualify for this award, a residential roofing contractor must meet specific criteria in at least one out of three different pathways: the Performance pathway, where contractors focus on giving their property owners the best possible service, quality, and protection; the Reliability pathway, where the contractor has a long history of offering their customers the best quality and protection; and the Service pathway, where contractors consistently offer their customers the best protection available in the marketplace.
MGS Construction has been a GAF Master Elite(R) Contractor since 2012; the company received the President's Club Award due to its excellent performance in 2016. To become a Master Elite(R) Contractor–a status that less than 2% of roofing contractors nationwide are able to achieve–a candidate must demonstrate proper licensing, maintain insurance (in states that require it), have a proven reputation, and show commitment to ongoing professional training.
"Quality is never an accident" at MGS Construction, according to general manager Michael Manick. "It's always the result of high intentions, sincere effort, intelligent direction, and skillful execution. It represents the wise choice among many alternatives. We offer quality, quality, quality, and nothing less."
Having worked on hundreds of projects throughout New England, MGS Construction offers a high-end product with the best installation practices. "Just being different from other companies for the sake of being different," explains Manick, "is not the benchmark of a great company. We don't need to be different; we need to give clients what they are looking for at the best price possible. Isn't that what most home owners would expect? Our achievements are measured one client at a time."
The company constantly evolves to meet clients' needs. MGS Construction keeps up with the quickly changing industry by investigating the newest roofing products and materials and the best technologies to ease the process of doing business with its clients. Each project receives the utmost attention to detail.
Not just a general contractor looking for its next project, MGS Construction has worked hard in the industry to set itself apart from other, less scrupulous contractors. "We pride ourselves on the prestigious and notable honors we have earned," states Manick, "namely our A+ rating with the Better Business Bureau, our GAF Master Elite status, and the GAF President's Club Award." Also working hard at the local level, the company is involved in various charitable acts throughout its community.
From the first meeting with the customer, the company maintains a goal of exceeding expectations through the completion of the project. Referring back to the company's mantra about quality, Manick concludes: "Those are not just words. The focus on quality has earned us the loyalty of clients who then refer us to their families, friends, and business associates. Clients feel that we are genuine in our approach, because we live this philosophy every day."
About MGS Construction LLC
Family owned and operated, MGS Construction has been focusing on residential and commercial roofing services since 1998. Skilled at handling all phases of a roofing project, the company pledges to meet its goal of exceeding client needs and expectations. Treating customers' homes and businesses like their own, the folks at MGS Construction take pride in their work and in the close working relationships and trust that they build with their clients.
MGS Construction LLC
PO Box 1024
Derry, NH 03038
(603) 216-2633
Toll-free: (844) 647-7663
http://www.844mgsroof.com
YouTube video: https://www.youtube.com/watch?v=aB0NlFlDvrY
About GAF:
Founded in 1886, GAF is the largest roofing manufacturer in North America. The Company is an operating subsidiary of Standard Industries.
GAF products include a comprehensive portfolio of roofing systems for residential and commercial properties, which are supported by an extensive national network of factory-certified contractors. Its success is driven by its commitment to Advanced Quality, Industry Expertise, and Solutions Made Simple. GAF was the first roofing manufacturer to offer a Lifetime limited warranty on all of its laminated shingles, which then evolved with the introduction of the GAF Lifetime Roofing System by extending the Lifetime coverage beyond just the roofing shingles.
With a focus on social responsibility, GAF developed Advanced Protection(R) Shingle Technology, providing excellent durability and wind resistance while reducing the use of natural resources. The Company has also developed single-ply and asphaltic roofing membranes with excellent durability and high reflectivity to meet the most rigorous industry standards while helping commercial property owners and designers reduce energy consumption.
GAF also supports the roofing industry through CARE, the Center for the Advancement of Roofing Excellence(TM), which has provided education to over 230,000 professionals. CARE's mission is to help professional contractors and distributors build their businesses through sales and management education, and to provide product and installation training to contractors, distributors, architects, property owners, and related industry personnel.
For more information about GAF, visit: gaf.com
About Standard Industries:
Standard Industries is a privately-held, global, diversified holding company with interests in building materials, aggregates, and related investment businesses in public equities and real estate. With over 7,500 employees and operations in more than 80 countries, Standard maintains a team-oriented culture of meritocracy and operational excellence, and a passionate focus on investing in its people.
Media Contact
Company Name: MGS Construction LLC
Contact Person: Manny Gendron
Email: mmanick@mgsconstructionllc.com
Phone: (603) 216-2633
Address:PO Box 1024
City: Derry
State: NH
Country: United States
Website: http://www.844mgsroof.com