Groover Roofing & Siding of Girard, OH, has received GAF's 2017 President's Club Award. A GAF Master Elite(R) contractor since 2008, it is a full-range company that provides residential and commercial services for all exterior needs.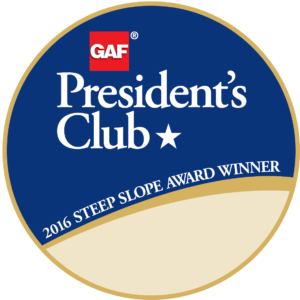 Girard, OH – May 23, 2017 –
Groover Roofing & Siding of Girard, Ohio, has received the most prestigious contractor award GAF offers: The GAF President's Club Award. This highly coveted award recognizes Groover Roofing & Siding as one of the "elite of the elite" residential roofing contractors in the United States.
GAF is North America's largest roofing manufacturer, and only GAF Master Elite(R) Contractors can compete for its residential President's Club Award. To qualify for this award, a residential roofing contractor must meet specific criteria in at least one out of three different pathways: the Performance pathway, where contractors focus on giving their property owners the best possible service, quality, and protection; the Reliability pathway, where the contractor has a long history of offering their customers the best quality and protection; and the Service pathway, where contractors consistently offer their customers the best protection available in the marketplace.
Groover Roofing & Siding has been a GAF Master Elite(R) Contractor since 2008; the company received the President's Club Award due to its excellent performance in 2016. To become a Master Elite(R) Contractor–a status that less than 2% of roofing contractors nationwide are able to achieve–a candidate must demonstrate proper licensing, maintain insurance (in states that require it), have a proven reputation, and show commitment to ongoing professional training.
With the capabilities of a large construction company and the service that customers expect from a small, locally owned business, Groover Roofing & Siding has been satisfying both homeowners and businesses since 1995. "All work is performed by our own professional crews; we do not employ subcontractors in our craft specialties," according to founder and owner Brian Groover. "Each job has an onsite foreman, I oversee all jobs contracted to the company, and all labor and materials are guaranteed by me. When permits are required, we obtain them. We also perform thorough inspections and report all results to the customers."
The company specializes in new construction, additions, renovations, repairs, and preventative maintenance. Interior and exterior services include roof replacement, siding installation, chimney work, painting, stone and brick work, sunrooms, and installation or replacement of widows, skylights, and doors. "We have professional estimators, inspectors, and sales personnel to help customers select the right materials," says Groover. "They make sure that the job is done right and done on budget."
Groover continues: "We hear horror stories all the time about unknown or new roofing contractors who install a roof and cash the check–but when an issue arises, they are nowhere to be found. Our belief in customer satisfaction and our workmanship warranty means that customers will never face this problem." Reflecting its commitment to customer service, Groover Roofing & Siding is a member of the Youngstown/Warren Regional Chamber and the Home Builders and Remodelers Association of the Valley. It is also a GAF Certified Green Roofer(TM).
"Our experience in commercial roofing runs deep, also," says Groover. "We understand the latest in technologies, materials, and methods, and we appreciate the entire scope of commercial construction and the various elements involved." He concludes: "We have a track record and reputation for quality workmanship, responsible project management, and exceeding expectations that is unmatched in the area. We have every intention of keeping it that way."
About Groover Roofing & Siding
Founded in 1995, Groover Roofing & Siding is "the Valley's leader for roofing and siding." A full-range company that provides residential and commercial services for all exterior needs, Groover Roofing & Siding is dedicated to the exceptional workmanship and customer service that set it apart as a contracting company.
Groover Roofing & Siding
1101 E. Liberty Street
Girard, OH 44420
(330) 759-1970
http://www.grooverroofingandsiding.com
Facebook: https://www.facebook.com/pages/Groover-Roofing-Siding/198432750184478
About GAF:
Founded in 1886, GAF is the largest roofing manufacturer in North America. The Company is an operating subsidiary of Standard Industries.
GAF products include a comprehensive portfolio of roofing systems for residential and commercial properties, which are supported by an extensive national network of factory-certified contractors. Its success is driven by its commitment to Advanced Quality, Industry Expertise, and Solutions Made Simple. GAF was the first roofing manufacturer to offer a Lifetime limited warranty on all of its laminated shingles, which then evolved with the introduction of the GAF Lifetime Roofing System by extending the Lifetime coverage beyond just the roofing shingles.
With a focus on social responsibility, GAF developed Advanced Protection(R) Shingle Technology, providing excellent durability and wind resistance while reducing the use of natural resources. The Company has also developed single-ply and asphaltic roofing membranes with excellent durability and high reflectivity to meet the most rigorous industry standards while helping commercial property owners and designers reduce energy consumption.
GAF also supports the roofing industry through CARE, the Center for the Advancement of Roofing Excellence(TM), which has provided education to over 230,000 professionals. CARE's mission is to help professional contractors and distributors build their businesses through sales and management education, and to provide product and installation training to contractors, distributors, architects, property owners, and related industry personnel.
For more information about GAF, visit: gaf.com
About Standard Industries:
Standard Industries is a privately-held, global, diversified holding company with interests in building materials, aggregates, and related investment businesses in public equities and real estate. With over 7,500 employees and operations in more than 80 countries, Standard maintains a team-oriented culture of meritocracy and operational excellence, and a passionate focus on investing in its people.
Media Contact
Company Name: Groover Roofing & Siding
Contact Person: Nancy Nogay
Email: nancy@groover.com
Phone: (330) 759-1970
Address:1101 E. Liberty Street
City: Girard
State: OH
Country: United States
Website: http://www.grooverroofingandsiding.com