Franzoso Contracting of Croton-on-Hudson, NY, has received GAF's 2017 President's Club Award. A GAF Master Elite(R) contractor since 1998, the company has three divisions, handling replacements, interior work, and solar and air sealing.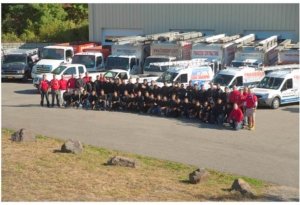 Croton-on-Hudson, NY – May 23, 2017 –
Franzoso Contracting, Inc., of Croton-on-Hudson, New York, has received the most prestigious contractor award GAF offers: The GAF President's Club Award. This highly coveted award recognizes Franzoso Contracting as one of the "elite of the elite" residential roofing contractors in the United States.
GAF is North America's largest roofing manufacturer, and only GAF Master Elite(R) Contractors can compete for its residential President's Club Award. To qualify for this award, a residential roofing contractor must meet specific criteria in at least one out of three different pathways: the Performance pathway, where contractors focus on giving their property owners the best possible service, quality, and protection; the Reliability pathway, where the contractor has a long history of offering their customers the best quality and protection; and the Service pathway, where contractors consistently offer their customers the best protection available in the marketplace.
Franzoso Contracting has been a GAF Master Elite(R) Contractor since 1998; the company received the President's Club Award due to its excellent performance in 2016. To become a Master Elite(R) Contractor–a status that less than 2% of roofing contractors nationwide are able to achieve–a candidate must demonstrate proper licensing, maintain insurance (in states that require it), have a proven reputation, and show commitment to ongoing professional training.
"My company is pretty much an open book," declares Mark Franzoso, president of Franzoso Contracting, "with a stellar name for home remodeling in our area. We're hired primarily for the name that we have out there, providing excellent service and excellent workmanship. We bring to the job 35 years of experience and winning awards, year after year after year, trying to be at the top of our field."
The reputation is well deserved. Since 1980, Franzoso Contracting has been a leader in Westchester, Putnam, and Rockland Counties in New York and Fairfield County in Connecticut, providing services in siding, windows, roofing (both new and repairs) and roof cleaning, gutters, doors, and skylights. "We recently ventured into the solar arena," adds Franzoso. "We are now mastering the solar contractors."
Communication and great products are the hallmarks of service at the company. "We make our first impression," states Franzoso, "from the moment the phone gets answered in the office. All parties communicate at all stages, from the sales associate making the presentation to the production department to the installation crew to the onsite foreman." He continues: "I've always prided myself on being an innovator and bringing new product lines to the customers before my competitors do. When GAF establishes new styles and colors, such as the Timberline(R) American Harvest(TM) shingles that we've been using for the last six months or so, we utilize that to separate us from other roofers."
Franzoso Contracting has an enormous commitment to community. "Our customers are hiring a company with strong ties to the area, through a lot of civic organizations," says Franzoso. The company works with or supports diverse organizations, including: the Hudson Valley Gateway Chamber of Commerce; the Rotarians; The Friends Network, supporting children with special needs; The Support Connection, a women's breast- and ovarian-cancer support group; and Habitat for Humanity. The company also does a lot of work with veterans. "I'm vice president of the Downstate chapter of Purple Heart Homes," adds Franzoso. "We redid steps and installed new railings for a Korean War veteran who lost his leg. GAF supplied materials for us to put on a new roof, gutters, and leaders for a Vietnam veteran in Putnam Valley. A recent veteran recipient was a 30-year-old who lost his right arm in Iraq; we made his home easier to manage and operate with just one arm. We love to get involved and help."
Going forward, the company looks to see some growth in the roofing portion of the business. "Work and money aren't everything," concludes Franzoso, "and we don't get all of the jobs. But we get our fair share from people who are willing to pay little bit more, for the perfect job with the best materials."
About Franzoso Contracting:
Starting in 1980 as a roofing and siding replacement contractor, Franzoso Contracting has grown to include three divisions: the replacement division, Franzoso Contracting; Franzoso Remodeling, for inside work; and Franzoso Energy Solutions, which handles solar and air sealing. A member of the Certified Contractors Network, the company maintains an A rating with the Better Business Bureau.
Franzoso Contracting, Inc.
33 Croton Point Ave.
Croton-on-Hudson, NY 10520
(914) 271-4572
http://www.franzoso.com
Facebook: https://www.facebook.com/pages/Franzoso-Contracting-Westchester-Roofing-Siding-Windows-Gutters-Doors/263358425219
Twitter: http://www.twitter.com/markfranzoso
LinkedIn: https://www.linkedin.com/company/franzoso-contracting-inc
YouTube channel: http://www.youtube.com/franzosocontracting
About GAF:
Founded in 1886, GAF is the largest roofing manufacturer in North America. The Company is an operating subsidiary of Standard Industries.
GAF products include a comprehensive portfolio of roofing systems for residential and commercial properties, which are supported by an extensive national network of factory-certified contractors. Its success is driven by its commitment to Advanced Quality, Industry Expertise, and Solutions Made Simple. GAF was the first roofing manufacturer to offer a Lifetime limited warranty on all of its laminated shingles, which then evolved with the introduction of the GAF Lifetime Roofing System by extending the Lifetime coverage beyond just the roofing shingles.
With a focus on social responsibility, GAF developed Advanced Protection(R) Shingle Technology, providing excellent durability and wind resistance while reducing the use of natural resources. The Company has also developed single-ply and asphaltic roofing membranes with excellent durability and high reflectivity to meet the most rigorous industry standards while helping commercial property owners and designers reduce energy consumption.
GAF also supports the roofing industry through CARE, the Center for the Advancement of Roofing Excellence(TM), which has provided education to over 230,000 professionals. CARE's mission is to help professional contractors and distributors build their businesses through sales and management education, and to provide product and installation training to contractors, distributors, architects, property owners, and related industry personnel.
For more information about GAF, visit: gaf.com
About Standard Industries:
Standard Industries is a privately-held, global, diversified holding company with interests in building materials, aggregates, and related investment businesses in public equities and real estate. With over 7,500 employees and operations in more than 80 countries, Standard maintains a team-oriented culture of meritocracy and operational excellence, and a passionate focus on investing in its people.
Media Contact
Company Name: Franzoso Contracting, Inc.
Contact Person: Mark Franzoso
Email: jimelle@franzoso.com
Phone: (914) 271-4572
Country: United States
Website: http://www.franzoso.com